Join the goose chase and discover where our statues have landed!
After a successful scavenger hunt in the winter, our Cultural Arts Commission has launched another goose chase to kick off the 2023 school year! Word has spread across the Lowcountry, and more geese have decided to make Goose Creek their forever home. We need your help to find all of the geese statues across the City. To track your discoveries, we've created a map and checklist below that can be printed or picked up at the Goose Creek Recreation Center. Here are the rules:
Find all of the geese statues that have landed at various businesses and organizations!
Download and print the map here or pick up a copy at the Fitness or Activity Center (519A North Goose Creek Blvd) to track your findings.
There are 12 statues in total: 6 statues require a sticker that can be picked up inside of the business where it has nested and the other 6 statues require a picture taken with them to count as discovered. (Check the operating hours of some businesses before dropping by to pick up a sticker. Pictures with the geese statues requiring a sticker can also count if discovered during closed hours)
Return your completed card to the Recreation Center for a wristband showing you found all of the geese statues. The first three scavengers who turn in a completed card will win a prize. Everyone who returns a completed card will receive a bracelet for finding all of the geese. Make sure to show our staff the pictures you took with the geese!
Share pictures from your scavenger hunt across the City with us by tagging @cityofgoosecreek and @cityofgoosecreekrecreation on Facebook and Instagram and using the hashtag #GCGooseChase.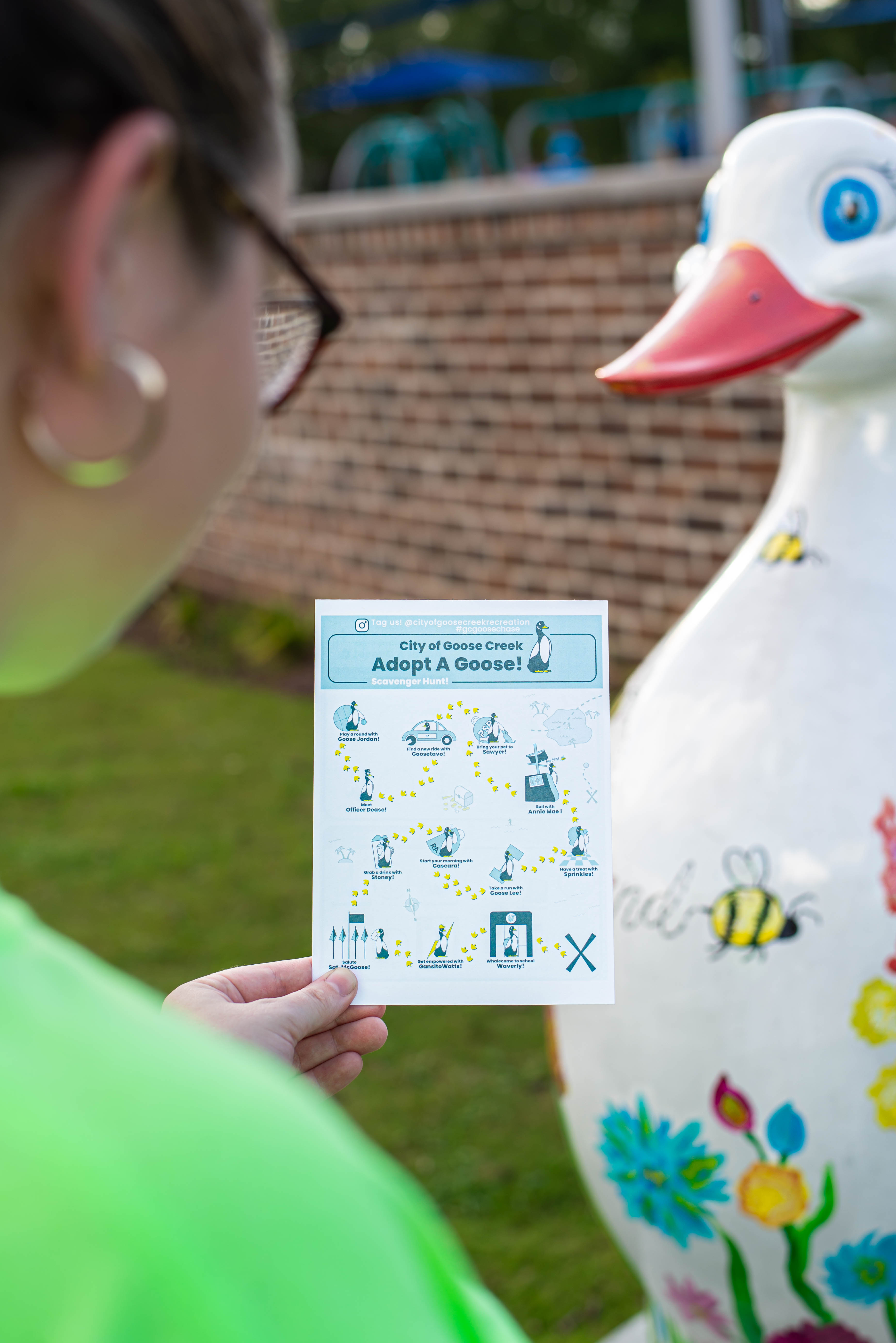 The City of Goose Creek has launched an exciting new initiative in partnership with our Cultural Arts and Recreation Commissions: The "Adopt-A-Goose" program gives City businesses and organizations the opportunity to display their own goose statue – designed just for them. 
The statues are making a splash around town! Through scavenger hunts and photo opportunities, they create a buzz – and foot traffic – for participating businesses. The statues come with a nameplate and an optional base. 
This program is a great initiative to support local businesses and economic development in Goose Creek. Adopt your own goose today and join in on the goose chase!