Click here to apply for our online registration username & password.
The City of Goose Creek Pool is located in the Hamlets at 300 Hamlet Circle, Goose Creek, SC 29445.
Pool Memberships - per person
| Type of Member | Fee (Season) |
| --- | --- |
| Resident | $50 |
| Non-Resident | $100 |
| Daily Pass / Guest | $3 |
| Children age 4 and under | Free |
Pool Hours
Hours of Operation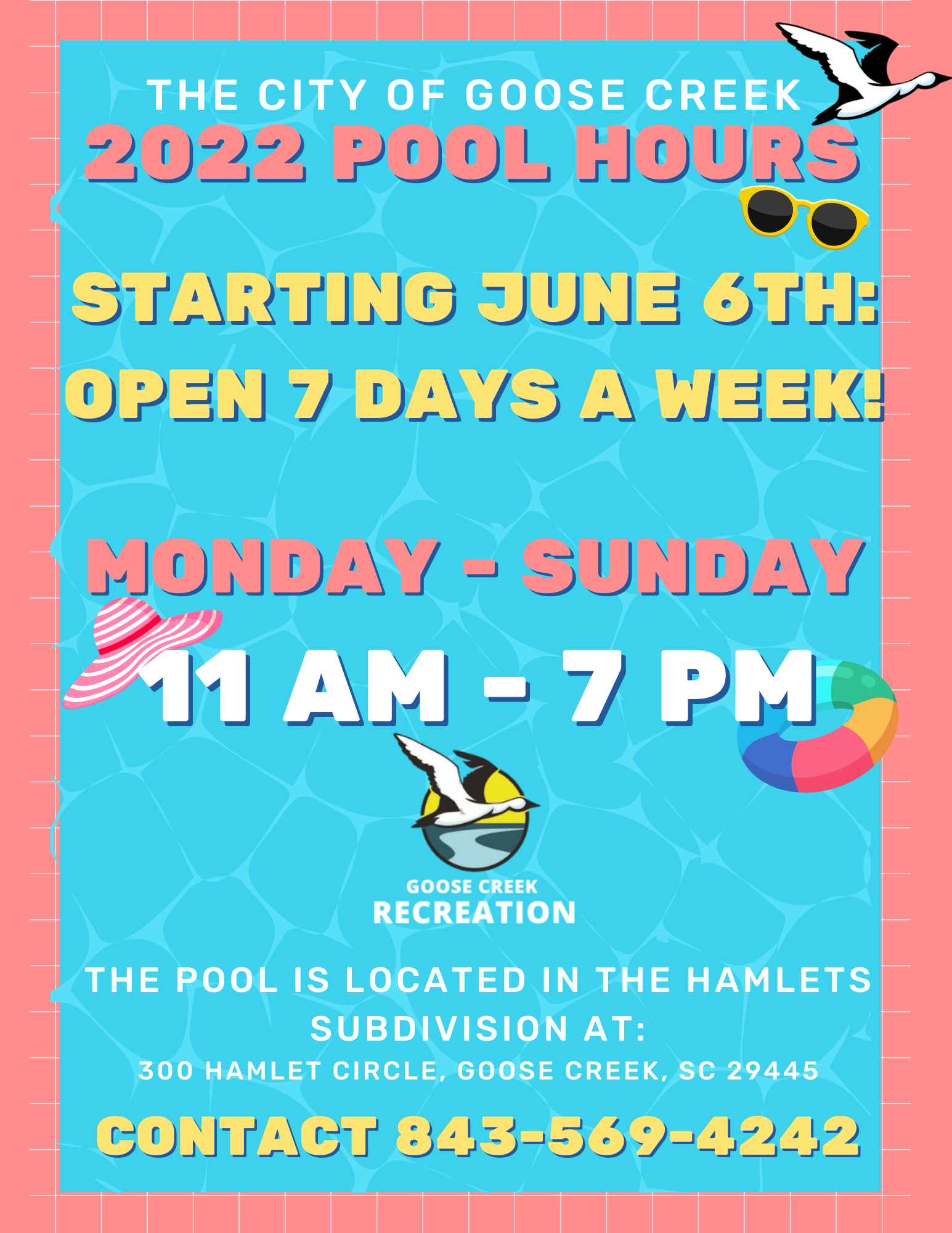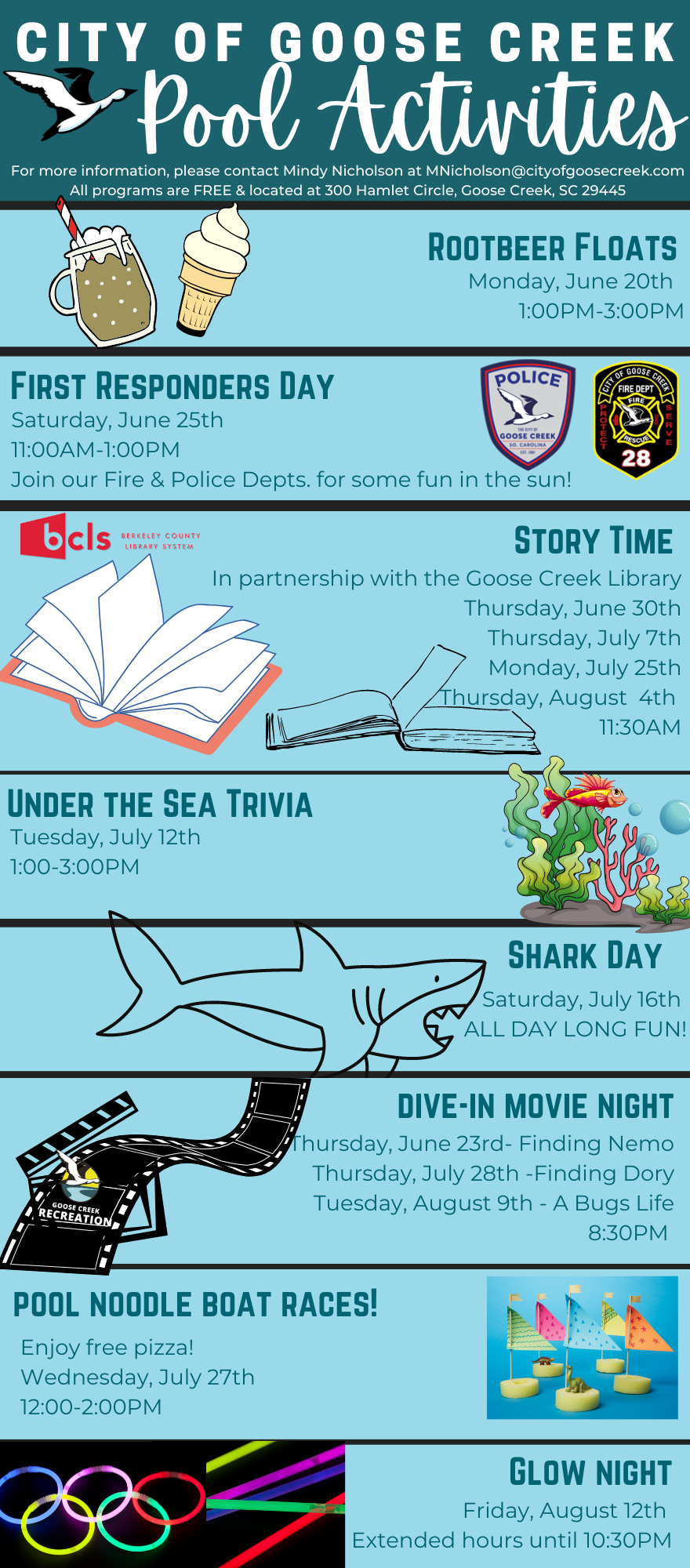 Purchasing Memberships
Memberships for the pool are sold at the Goose Creek Community Center or the Goose Creek Activity Center which are both located in the Michael J. Heitzler Recreation Complex, 519A North Goose Creek Boulevard, Goose Creek, South Carolina 29445 or at the pool during office hours. Proof of residency is required (driver's license, current utility bill, & rental agreement for renters).
Water Aerobics: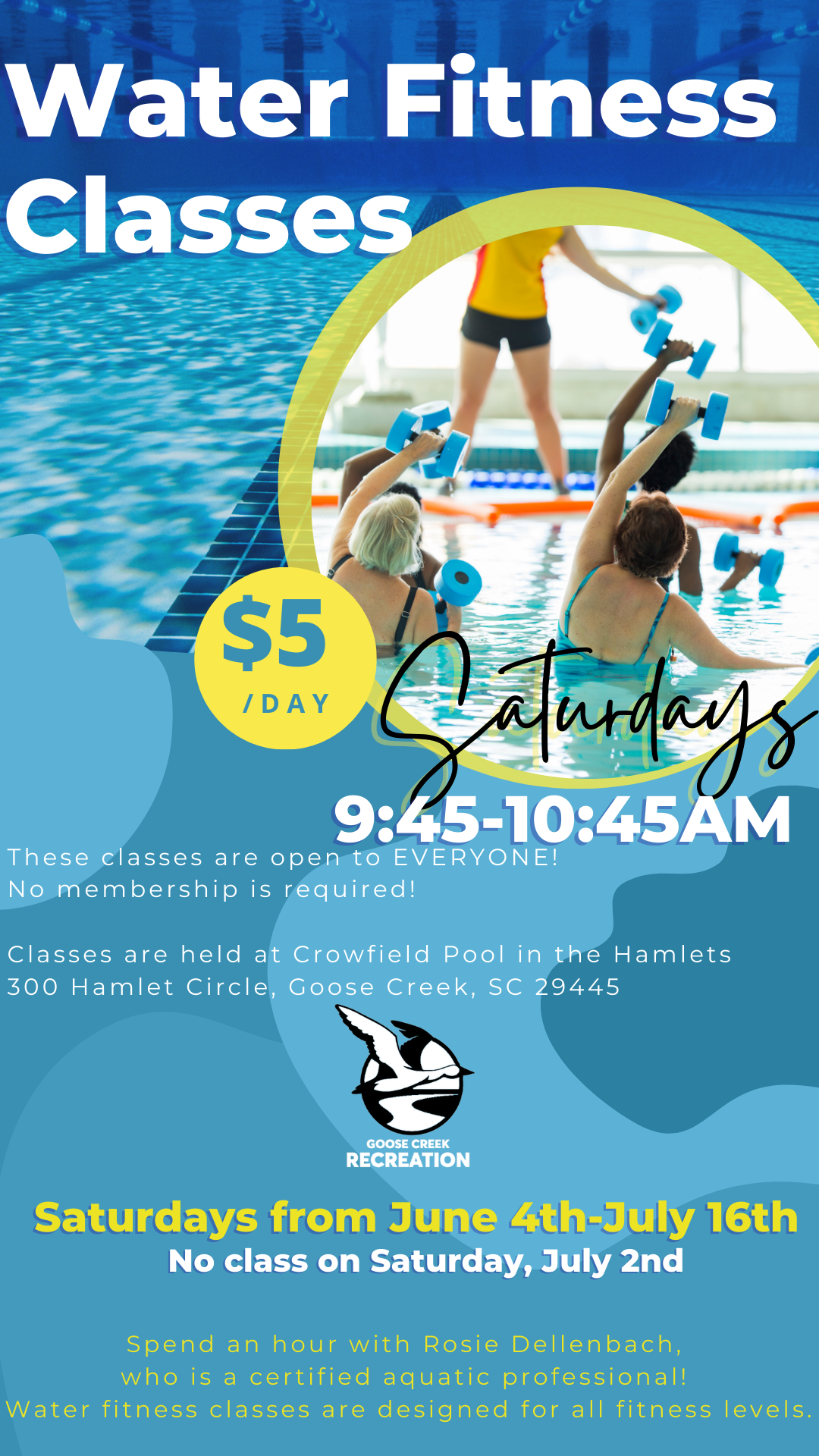 2022 Swim Lessons:
Are held in partnership with The LowCountry Swim School. To inquire about Swim Lessons please contact them at: https://lowcountryswimschool.com/
Private Swim Lessons are available with Lowcountry Swim School. 
For more Pool & Swim Lessons information, contact Mindy Nicholson, Recreation Specialist- Athletics at 843-569-4242 ext. 5289 or [email protected]
Killer Waves Swim Team
We are the home of the Killer Waves swim team.  Contact them directly for additional information.
---
Sign up for notifications so you always know what's new!
Private lessons are available for both juniors & adults with USPTA Certified Pro Sean Murphy. For more information, please email Sean at [email protected]
$50.00 per hour private
$30.00 per half hour private
$60.00 1- hour clinic rate (Create your own clinic & split the cost by # of participants)
For more Tennis information, contact Patty Newman, Center Coordinator at [email protected] or call 843-569-4242 ext. 5303.