The Crowfield Collaborative

The Crowfield Golf Club has been one of the Lowcountry's most celebrated public golf courses for the past 33 years. We're making exciting changes to the Clubhouse, expanding the outdoor footprint to include more space for casual dining, relaxing, and socializing with members, guests, and friends. 
The City of Goose Creek is investing $1.85 million in indoor and outdoor renovations and, together with Crowfield Golf Club launching a capital campaign to raise $250,000 in private support to reinforce these improvements and new amenities.
The Crowfield Collaborative Campaign includes six distinct naming opportunities and a chance to support the cause by becoming an Inaugural Friend of Crowfield or an Inaugural Fan.
Asking members and friends to invest in changes that will elevate the clubhouse is unprecedented. However, these improvements represent a new chapter for the club. By renovating and upgrading our surroundings, members and friends will have more reasons to celebrate our first-rate golf destination and one of our community's most important assets.
The Crowfield Collaborative: A Community Campaign to Raise $250,000
Gifts to The Crowfield Collaborative will total $250,000 and be given in addition to the $1.85 million investment by the City. Donations will enable quality features, furnishings, and a new avant-garde kitchen to reinvigorate our Lowcountry golf lifestyle. Your involvement will ensure our planned renovations come to life, transforming our footprint and creating a premier destination we can all be proud of.
Gifts are payable over 1-3 years and include significant naming opportunities with signage at designated spaces and lasting recognition on a permanent donor wall. All naming opportunities require formal gift agreements and result in membership in the Inaugural Friends of Crowfield.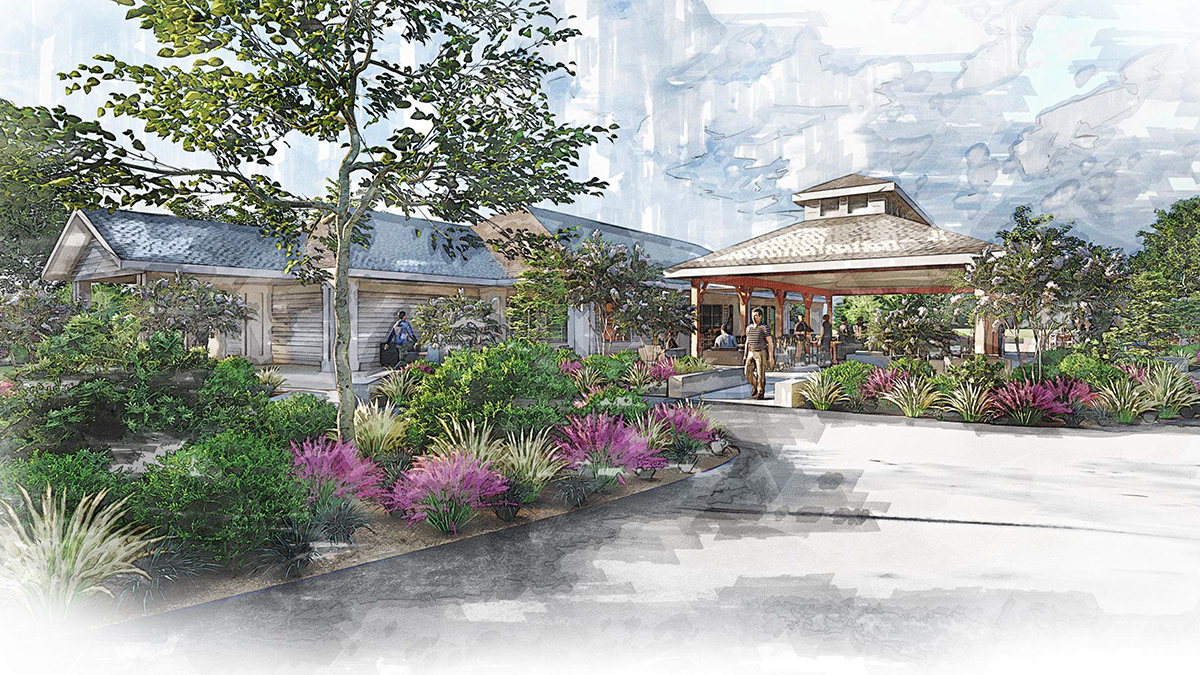 Naming Opportunities
Pavilion
A 1,500-square-foot open-air space, our Pavilion will become our center of gravity following a round of golf. Adjacent to the putting green and fire pit, the Pavilion invites you to grab a seat at the bar or dine with friends at a community table. The casual atmosphere accommodates up to 60 guests at one time at a variety of tables and high tops. It features a showpiece bar where you can enjoy your favorite beverages and snacks. The Pavilion is ideal for large groups, tournaments, special events, and as many friendly rounds of golf as you play.
Investment: $75,000 over three years * 15-year naming rights
Outdoor Bar
Every great clubhouse needs a top-shelf Outdoor Bar; now, we will have one. This 200-square-foot space creates an attractive focal point inside the pavilion and features a full selection of beverages, 18 bar stools, and multiple televisions to watch professional tournaments and other sporting events. Designed for year-round use, the Outdoor Bar is just steps away from the new synthetic putting green.
Investment: $40,000 over three years * 10-year naming rights
Indoor Bar
Our Indoor Bar has been a well-liked meet-up spot for members and guests for many years. The brick backsplash creates a rich clubhouse feel that complements the classic mirror and glass backdrop. Fourteen bar stools make it easy to grab a seat and order a drink, snack, or meal. Adjacent to the Indoor Bar is a welcoming dining space with upgraded tables and chairs.
Investment: $30,000 over three years * 10-year naming rights
Putting Green
A 400-square-foot synthetic Putting Green gives golfers more opportunities to master a fundamental part of the game. Located just outside the pavilion, the new Putting Green is near the bar and fire pit, making it easy to come and go from putting practice. A critical destination enhancement, this new activity center will wow members, visitors, and golf enthusiasts.
Investment: - $20,000 over three years * 5-year naming rights
Fire Pit
An 800-square-foot gathering space with a brick Fire Pit is the perfect place to relax and enjoy the atmosphere following a round of golf or unwind after work. Pull up a chair or sit at one of the tables to enjoy a meal or beverage and enjoy the natural scenery. This spectacular outdoor enhancement is what a Lowcountry golfing lifestyle is all about.
Investment: $20,000 over three years * 5-year naming rights
Covered Stage
Our 400-square-foot Covered Stage is a convenient centerpiece for hosting annual concerts and other special crowd-drawing events. The location augments our Clubhouse experience and doubles as a "great cigar escape."
Investment: $15,000 over three years * 5-year naming rights
Inaugural Friends of Crowfield
The "Inaugural Friends of Crowfield" is a maiden membership opportunity designed to support the ongoing livelihood of our club. A one-time contribution of $1,000, $5,000 or $10,000 will help to make clubhouse renovations, furnishings, a new kitchen, and other essential upgrades possible. Participation ensures your name appears on the permanent donor wall installed upon the campaign's conclusion.
Inaugural Fans of Crowfield
The "Inaugural Fans of Crowfield" is a first-time membership opportunity to support clubhouse refurbishments and activities. Gifts of $100, $250, $500, and $750 will ensure your name appears on the permanent donor wall installed upon the campaign's conclusion.
Collaborating & Celebrating
Collaborating to renovate and elevate our clubhouse allows us to extend our loyal and enthusiastic celebration of Crowfield.
Make gifts payable to The City of Goose Creek by check or credit card to participate. Charitable contributions to our public purpose project are tax-deductible under section 170(c) of the Internal Revenue Code. Consult your tax accountant for more information.
A festive donor and member wrap-up party will be held following the conclusion of renovations and The Crowfield Collaborative Campaign.
To learn more about the campaign or to join the Inaugural Friends or Fans of Crowfield, contact Troy Sanders at [email protected].