Sign up for notifications so you always know what's new!
Click here to apply for an online registration username & password.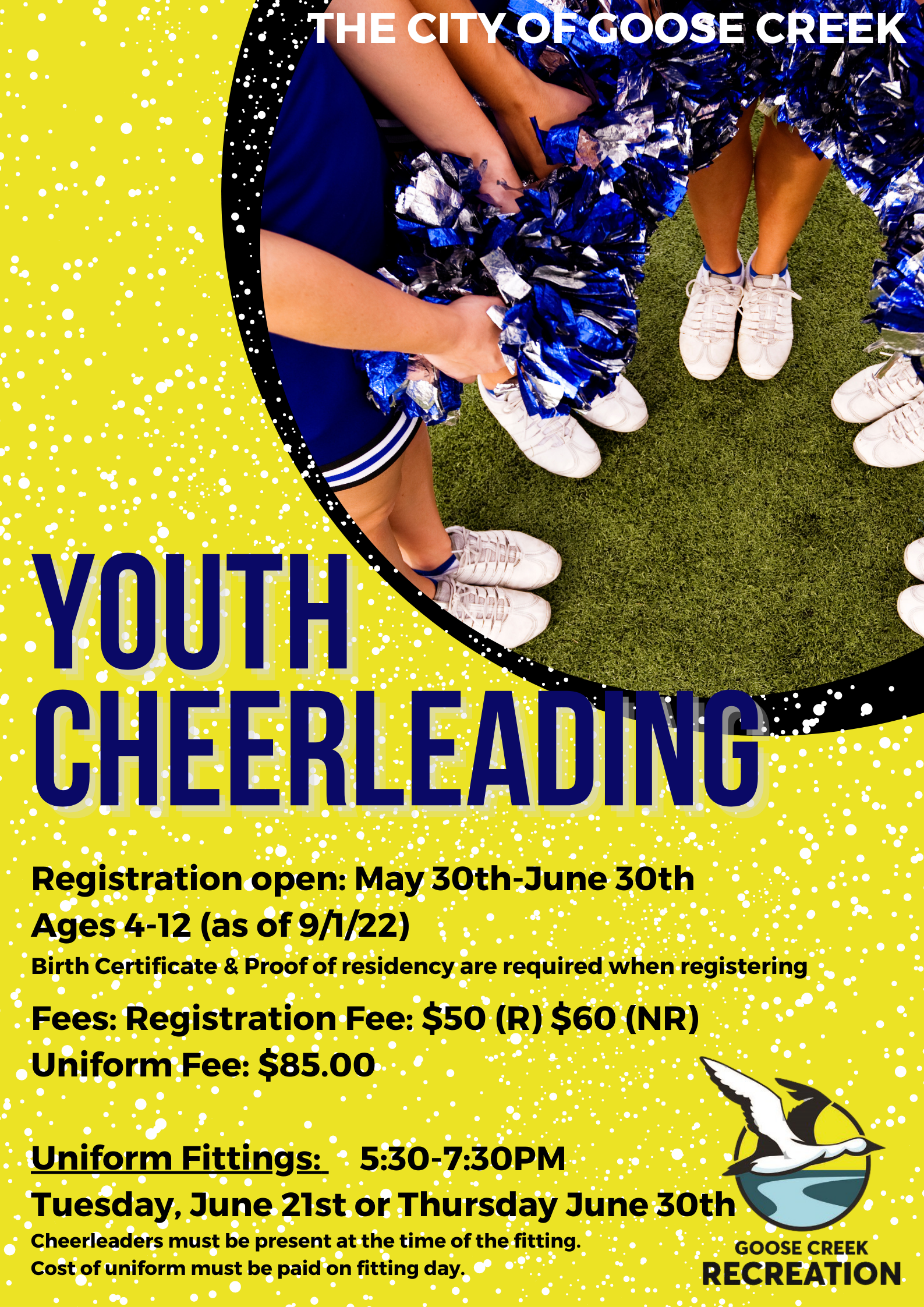 Registration (CLOSED)
Registration Monday, May 30th-Thursday, June 30th, for residents of the Goose Creek Recreation District & City of Goose Creek and non-residents.
Registrations are taken at the Goose Creek Community Center. Office hours are 8 am to 9 pm; Saturday 8 am to 4 pm; and Sunday 10 am to 4 pm. Registrations are also accepted at the Goose Creek Activity Center.  Office hours are Monday-Thursday 8 am-9 pm, Friday 8 am-8 pm and Saturday 9 am-2 pm. 
Both building are located in the Michael J. Heitzler Recreation Complex, 519A North Goose Creek Blvd, Goose Creek, 29445.
NEW- you can also register online during the registration period if you already have a username and password for our online system. If you don't already have a username & password, click here.
Ages
Our recreational cheerleading program is for ages 4-12.  Ages as of September 1, 2022.  This is not a traveling or competitive cheerleading program. 
Fees
$50 Residents; $60 Non-Residents, includes poms & briefs.  A uniform fee of $85 is due at fitting. 
Cheer Uniform Fee: $85 (Due at fitting)
Cheer Fitting dates & Times: Tuesday, June 21st & Thursday, June 30th 5:30-7:30PM.
Identification
A birth certificate and proof of residency are required when registering.
Acceptable forms of proof of residency include:
Homeowners: driver's license or picture identification and most recent utility bill
Renters: driver's license or picture identification, most recent utility bill, and original rental agreement
Current address must be on all proofs of residency
Game Schedules   
Cheerleaders will cheer for our Goose Creek football teams.  They will travel in the Berkeley County area.
Questions:  843-569-4242, Sylvia Reid, Cheer Coordinator