Police Officer Recruiting
Police Officer Recruiting
Our Goal
Police work is very challenging, inherently dangerous, but is rewarding to those who commit to a career of public service.  As such, we consider only the best qualified candidates who have demonstrated positive character and integrity in their personal and professional lives to fill our police officer vacancies.  
The information on this page is not all-inclusive but is intended to assist prospective applicants with making a decision to pursue a rewarding career with our agency.  
After you review this page, visit the City's employment page to check the latest job opportunities.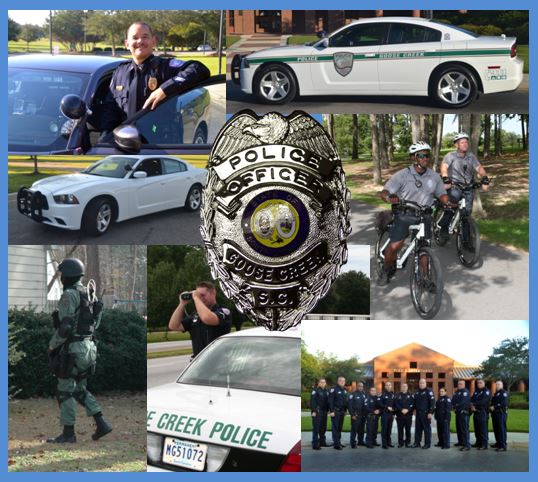 Compensation
An applicant with a certification from the South Carolina Criminal Justice Academy (SCCJA) is offered between $33,458 and $40,765 based on training, experience, and education.  An applicant without (SCCJA) certification is offered $30,311 but receives a raise between the aforementioned ranges upon graduation from SCCJA.  The current maximum pay rate for a police officer is $49,576.  Police officers are evaluated annually and receive pay-for-performance increases (as approved in each budget cycle) commensurate to their evaluation score.
Benefits
Click here to view our latest benefits schedule.
Police retirement details: Police officers participate in the State Police Officers Retirement System (PORS).  Police officers are eligible for retirement from PORS after serving 27 years or after serving 8 years and attaining the age of 55.
Vehicle use policy - After release from field training and probation, officers are permitted to drive their police vehicle within Berkeley, Charleston, and Dorchester counties for personal use.  Officers must carry their firearm, badge, and identification and adhere to dress code specifications.  Family members may be dropped off/picked up at/from work/school on the officer's way to work/home.
Hiring Priority
We consider applications for police officer that meet our minimum qualifications in the following order of priority:
Applicants with a current Basic Law Enforcement Training (BLET) certification from the South Carolina Criminal Justice Academy.
Applicants with a current BLET certification from another state.
Applicants with a college degree.
Applicants some college credit and a solid work history.
Minimum Qualifications 
Must be a United States citizen by birth or naturalization
Must be 21 years of age
Must be a high school graduate (diploma or GED)
Must have a driver's license issued in the United States and be able to obtain a South Carolina driver's license if hired
Must be of good moral character as demonstrated by past and present behaviors

Must not possess racist or sexist ideologies
Must not have engaged in acts of domestic violence even if no arrest was made
Must not have engaged in habitual or serious criminal behavior, even if no arrest was made
Must not have intentionally accessed internet sites for the purpose of viewing child pornography
Must not have intentionally violated copyright or royalty provisions by downloading material from the internet
Must not have used the anonymity of the internet to harass third parties

Must have no criminal convictions

Convictions for minor misdemeanors may be considered based on age at time of offense, time passed since offense, demonstrated behavior since offense, and agency demands.

Must have a driving record that demonstrates consistent compliance with traffic laws

No conviction for driving under the influence (DUI/DWI) within past 5 years
No conviction for hit and run within past 5 years
Driving under suspension (DUS) convictions are evaluated based on cause and timeframe
No demonstrated pattern of willful disregard for traffic laws (gross violations or excessive accumulated violations)

Must be free of illegal drug use and/or activity (no exceptions)

Must not have bought, sold, transported, manufactured, or ingested, heroin, LSD, non-prescribed, methamphetamine, or any other illegal substance within the past 10 years (5 years for cocaine and 2 years for marijuana and steroids)
Must not have ingested controlled substances prescribed to another
Must not have bought controlled substances prescribed for another for your own use or sold to another a controlled substances prescribed to you

Must have demonstrated responsibility and integrity in personal financial affairs

Must be current in financial obligations (consumer credit reports will be evaluated based on personal situations)
Must not be in default on any student loan(s)

Must be willing to fully disclose prior behaviors and submit to a polygraph examination conducted by a licensed examiner
Must pass an entry level knowledge assessment test with a score of at least 80%
Must be willing to submit to a medical examination conducted by a licensed physician if offered a position
Must be willing to submit to a mental fitness examination conducted by a licensed psychologist if offered a position
Must be willing to spend 12 weeks in Columbia, SC, at the South Carolina Criminal Justice Academy (SCCJA) to obtain certification if offered a position (non-SC certified applicants only); Out-of-state certified officers may only have to attend SCCJA for 6 weeks (as determined by SCCJA certification staff).
Must be willing to work rotating shifts (days, evenings, and nights), holidays, weekends, and in inclement weather
Must be available for emergency recall in the event of a disaster or declared emergency
Must not have experienced sustained misconduct while employed with other law enforcement agencies to include but not limited to (reviewed case by case):

Excessive use of force
Unlawful arrest and/or detention
Sexual harassment
Falsifying reports, statements, etc.
Excessive driving complaints or at-fault collisions