Goose Creek Community Center Fitness Center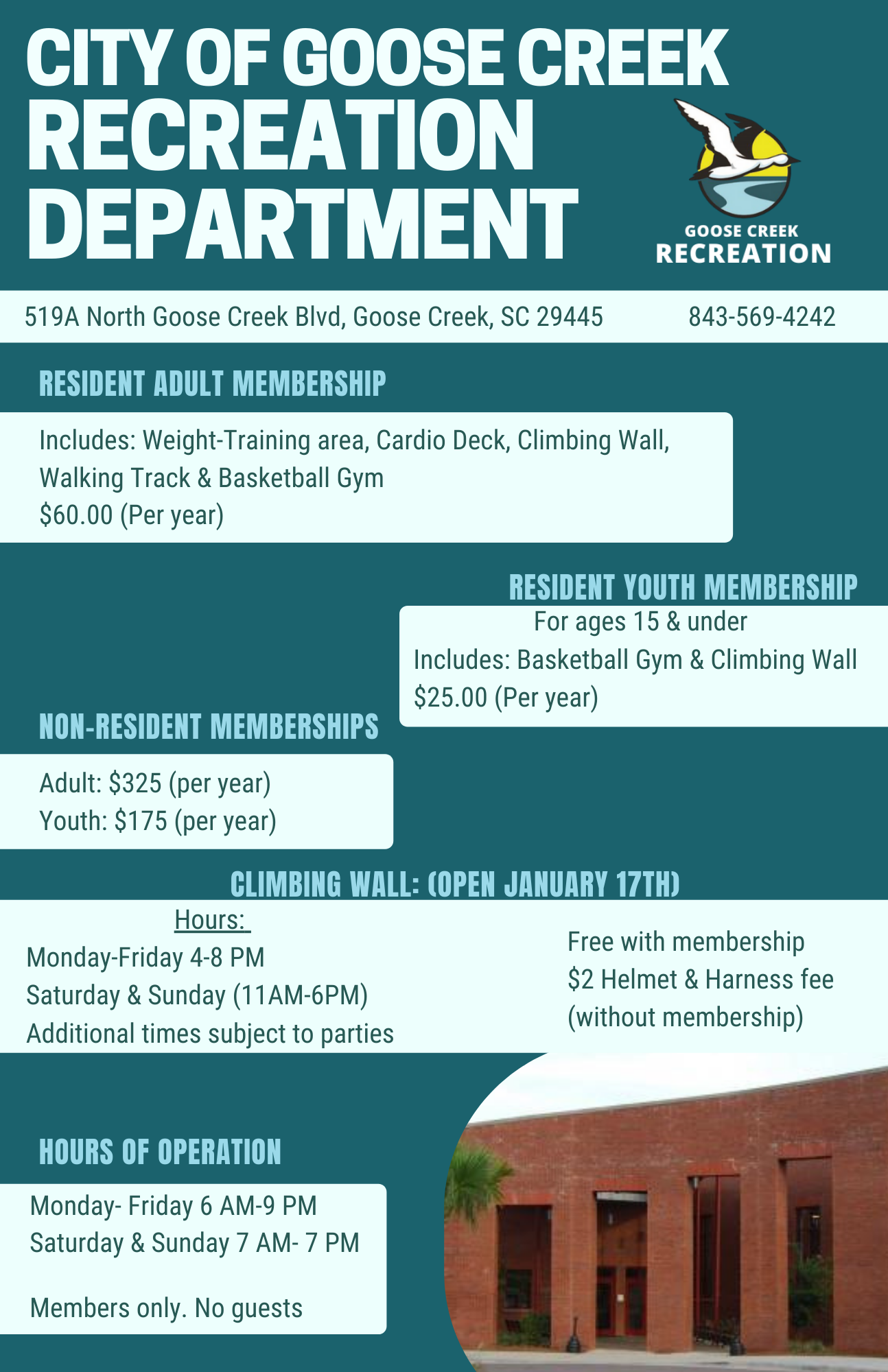 Membership Fees - per person
| Type of Member | Yearly Fee  |
| --- | --- |
| Adult Resident | $60 |
| Youth Resident-under 16 | $25 |
| Adult Non-Resident | $325 |
| Youth Non-Resident -under 16 | $175 |
Adult Membership Includes: Weight training area, cardio deck, climbing wall, walking track, and basketball gym. 
Youth Membership Includes: Basketball gym and climbing wall only.
Hours of Operation: Monday-Friday 6 am-9 pm, Saturday & Sunday 7 am-7 pm.
Residents must show proof of residency to qualify for the resident fee. Current address must be on all proofs of residency. 
Acceptable forms of proof of residency include:
Homeowners: drivers license or picture identification and most recent utility bill
Renters: drivers license or picture identification, most recent utility bill, and original rental agreement
Fitness Center is for members only; there is a limited guest policy: Guest Policy
Memberships are non-refundable and non-transferable and cannot be shared with others.  Two memberships cards with the same membership number are issued when you purchase your membership.  These two identical cards are for one membership only and cannot be given to guests.  
For other important fitness center rules, please click here
Orientation
An introduction to our strength training and cardiovascular equipment.  This 45 minutes session will be a benefit to all members.  This is perfect for those who are new to the fitness center and for those who want to make sure the are using the equipment properly and safely.  Instructor is a certified trainer.
Fee:  $15 residents/$20 non-residents; must register 24 hours in advance of session.
Monday-Thursday 
3pm-8pm
Fees: 
$20 monthly fee for 1st child. 
$10 for each additional child of the same family.
$2 per hour per child (minimum $2 fee)
Climbing Wall 
Climbing Wall is Open Monday through Friday from 4-8 PM
Saturday & Sunday 11AM-6 PM
 Free for members & $2 for non-members

Fitness Classes
Dance Fitness Classes - Line Dancing, WERQ, Zumba
Easy Does It Classes
Line Dancing
Pilates & Barre
Yoga and Chair Yoga
Zumba
Couch to 5K Training
A 9-week running program designed to get you off the couch and on the road.
New schedule soon
Personal Training is offered at the Community Center by Certified Trainers
Rates are as follows:
30 minute session $32
1 hour session $45
4 30-minute sessions $99
3 45-minute sessions $99
Email Fitness Coordinator Sylvia Reid for additional information
Fitness Center phone number:  843-569-4242, ext. 0