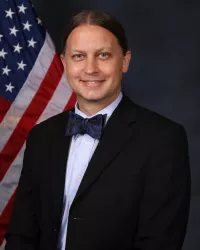 Tyler Howanyk

Administration

Title: Chief Financial Officer

Phone: (843) 797-6220 ext. 1121
Tyler Howanyk became the City of Goose Creek Finance Director in July of 2017 after joining the City as Assistant Finance Director in January. He was named as Chief Financial Officer in August 2020.
Tyler moved to the Charleston area from Ohio in 2002 to attend the College of Charleston, where he graduated with a B.A. in History and a B.S. in Accountancy. 
While working in public accounting as an auditor, he obtained his Certified Public Accountant (CPA) license.  During his 10 years in public accounting, Tyler specialized in audits of local governments, employee benefit plans, and nonprofit organizations.
« Back to Staff