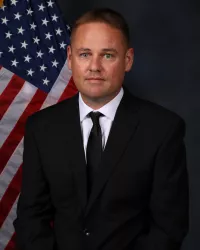 Troy Sanders

Golf

Title: General Manager

Phone: 843-764-4618
Troy Sanders joined the City of Goose Creek in 2004 as the Golf Course Superintendent, and was promoted to General Manager in 2010.
Troy's duties include the overall management of the Golf department. Working as the liaison between City Hall and the Golf Department, he is responsible for ensuring the citizens of Goose Creek have a great golf course to play at a good value.
A graduate of The Ohio State University with a degree in Turfgrass Management, Troy's 30-year career in the golf industry started at a club in Akron, Ohio, and has led him to the Southeast where he has worked at golf facilities in Savannah, Hilton Head Island and Charleston. He and his wife are currently raising their two young children in Goose Creek, and enjoy living and working in the community.
« Back to Staff