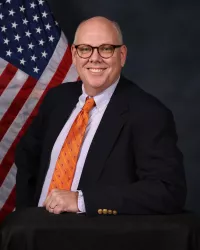 Ryan Byrd

Administration

Title: Information Technology Director

Phone: (843) 797-6220 ext. 1155
Ryan Byrd became the City of Goose Creek's first Information Technology Director in 2007.
Ryan came from the private sector where he worked as a consultant with Halifax Corporation. His desire to serve the citizens of Goose Creek prompted his entrance into public service. "My goal is to provide the most affordable and efficient tools to enable City of Goose Creek employees to provide the highest level of service to our citizens," he said.

As Information Technology Director, Ryan is responsible for the development and maintenance of the City's technological infrastructure. He oversees the voice and data network for the City serving to optimize technology for the staff to better serve the citizens of Goose Creek.
Ryan serves as a member-at-large on the Board of Municipal Technology Association of South Carolina, and is a member of the Lowcountry Municipal Technology Council.

A die-hard Clemson fan, Ryan is a South Carolina native and a graduate of Limestone College with a Bachelor's in Computer Science with an emphasis in Computer and Information Systems Security. He is also certified by the University of North Carolina at Chapel Hill as a Government Chief Information Officer.  
« Back to Staff