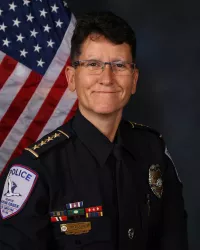 LJ Roscoe

Police

Title: Police Chief

Phone: 843-863-5200, ext. 2309
LJ Roscoe was sworn in as the Goose Creek Police Department Chief on Jan. 18, 2019.
A South Carolina native, Chief Roscoe came to Goose Creek from the DeKalb County Sheriff's Office in Georgia. 
Chief Roscoe began her career in law enforcement in 1991 when she joined the DeKalb County Sheriff's office as a detention officer.  She was promoted to deputy sheriff in 1994, and continued to receive promotions and assignments of increasing responsibility in various agency divisions. In 2014, she was promoted to the rank of Major.
Chief Roscoe earned both a Bachelor's degree and Master's degree in law enforcement management from Madison University in Mississippi; a Bachelor of Business Administration from Columbia Southern University in Alabama; and, a Master's degree in Organizational Leadership, from Waldorf University in Iowa. She is a graduate of the Northwestern University's School of Police Staff and Command. Chief Roscoe is a graduate of the Leadership DeKalb Class of 2016. Chief Roscoe graduated from Francis Marion University's Local Government Leadership Institute in 2022.
« Back to Staff