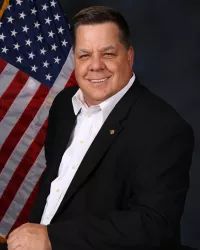 Jerry Tekac

Mayor & Council

Title: Councilmember

Phone: 843-797-6220, ext. 1113
Jerry Tekac was elected to Goose Creek City Council in 2018, after previously serving from 2008 to 2016. In December 2020, he was unanimously chosen by his colleagues to serve as Mayor Pro Tem for the 2020-2022 term.
Mr. Tekac left his home in Ohio in 1997 and moved to South Carolina seeking a better place to raise his family. He found what he was looking for in Goose Creek.
A graduate of Heidelberg College in Ohio, Mr. Tekac has been with the NBSC, a Division of Synovus Bank, since 1998. He began his career as the Branch Manager of the bank's Goose Creek office. He has a degree from the South Carolina School of Banking and the Graduate School of Banking at LSU.
Before his first election to City Council, Mr. Tekac was a member of the City's Planning Commission for eight years.  As a commission member, he saw firsthand how passionate residents are about their community.
Mr. Tekac has been an active and important part of the Goose Creek community. He has been involved with the Goose Creek Recreation Commission, serving as a baseball coach, basketball coach, and soccer coach during his children's upbringing.  He currently serves on the Board of Directors of the BUC Club at Charleston Southern University and is a Leadership Giver for the Trident United Way. 
He has served on the Board of Directors for the Myrtle Beach Regional Economic Development Corporation, as well as the Eastern SC Chapter of the American Red Cross, and was active with the Stratford Knights Athletic Boosters. He is a member of the Crowfield Golf Club and is involved with the activities of his son and daughter. 
"Goose Creek is such a special place to live, and I will continue to work to provide opportunities for our residents that will enhance our quality of life," Mr. Tekac said.  "I am humbled and honored that our residents have elected me back to City Council.
"It is an exciting time for our city and I'm looking forward to the serving the residents and businesses of our community."
« Back to Staff