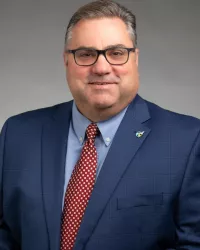 Gregory Habib

Mayor & Council

Title: Mayor

Phone: (843) 797-6220 ext. 1113
Would you like to invite Mayor Habib to speak to your group or appear at a special event? Email City Clerk Kelly Lovette or call her at (843) 797-6220 ext. 1113.
Greg Habib was re-elected as Goose Creek's Mayor in 2022, after winning his first term as Mayor in 2018. His time as Mayor followed two years on City Council. Goose Creek has been his home since 1982, when his father transferred with the United States Navy.
Mr. Habib has been a visible member of the community, participating in numerous civic and professional organizations. In addition to serving as president of the Boys and Girls Clubs of the Lowcountry, he served on the board of directors for the Callen-Lacey Children's Shelter, has volunteered as a youth sports coach, and is a member of the Berkeley County Chamber of Commerce.

During his time as Mayor, Mr. Habib's service to the Lowcountry has continued to grow. He currently serves as a member of the Board of Directors of the Charleston Metro Chamber of Commerce and the Charleston Regional Development Alliance. Moreover, he has taken a leadership role for local governments in South Carolina, serving on the Board of Directors for both the Municipal Association of South Carolina and the Association of South Carolina Mayors.   
Mr. Habib is the Vice President for Industrial Relations and General Manager for Charleston Steel and Metal Co, the largest privately held scrap metal processor in South Carolina, where he has worked since 2004. His leadership there includes executing all aspects of operations and logistics, plus sales, purchasing and strategic development. Prior to that, he spent 10 years at Trident Technical College, and five as the Director of Career Services, where he guided students to meet the needs of local employers.
As a longtime Goose Creek homeowner, son of parents who retired in Goose Creek, and father of two sons who were raised in Goose Creek, Mr. Habib is committed to help the city reach its potential. He will continue to draw on those connections and his experiences as an educator, business leader, and volunteer in his service as Mayor. 
Mr. Habib is a 1986 graduate of Goose Creek High School. He subsequently earned a Bachelor of Arts in Political Science and a Master of Education in Higher Education from the University of South Carolina. He and his wife Ellen have two sons, Phillip and Coleman, both graduates of Goose Creek's Stratford High School.
« Back to Staff