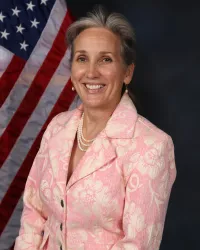 Gayla McSwain

Mayor & Council

Title: City Councilmember

Phone: 843 797-6220 ext. 1113
Gayla McSwain was elected to City Council in 2018 and re-elected in 2020.  
She brings to City Council a long history of service, having served on various Boards of Directors including the executive committee of the Charleston Regional Development Alliance, the Trident United Way, and the Crowfield Plantation Community Services Association.  She also served on the City of Goose Creek Planning Commission and on its Comprehensive Plan Steering Committee. Additionally, she is a graduate of The Riley Institute Diversity Leadership Academy, Leadership Berkeley County, and is Charter Member of the International African American Museum. 
"I have been a proud resident of Goose Creek for many years, and am grateful to my fellow citizens for giving me the opportunity to serve our City so that I can help to ensure that it continues to be one of the best places to live in South Carolina," she said.
A longtime advocate of public education and youth athletics, Ms. McSwain has served on several boards of parent-teacher associations, as a middle school mock trial coach and scoring judge at the high school and college levels, and as a baseball team manager.
"As a public servant, I draw upon all of my life experiences … as a wife, mother, Army officer, attorney, and board member," she said. "Keep a positive attitude, be fair to all, and apply common sense. Only then can you cut through the politics and get people to a common ground where problems can be solved and benefits realized."
Ms. McSwain earned a Bachelor of Science degree from Presbyterian College, was commissioned as a Regular Army Air Defense Artillery officer, and served in the first Patriot Missile battalion.  After leaving active duty, and while serving in the Army Reserves, she earned her juris doctor degree from the University of South Carolina School of Law. Before opening her own litigation law firm, she was a shareholder in the McNair Law Firm. She was recently inducted into the Presbyterian College Highlander Battalion ROTC Hall of Fame. 
Now retired, she keeps her license to practice law active and continues to contribute to the legal profession. Ms. McSwain is a charter member of the South Carolina Women Lawyers Association and a certified mediator for all courts. She has served as an editor of the South Carolina Bar's magazine, authored legal articles, and has taught Continuing Legal Education classes.
Learn more about Gayla McSwain.
« Back to Staff