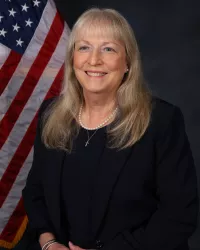 Debra Green-Fletcher

Mayor & Council

Title: Mayor Pro Tem

Phone: (843) 797-6220 ext. 1113
Mayor Pro Tem Debra Green-Fletcher has proudly served the citizens of Goose Creek on City Council since being elected in 2014. She is a tireless advocate for fiscal responsibility, balanced economic growth, safety and security, and recreation for all. She also champions the best resources for first responders including police and fire, as well as public works.
One of Mayor Pro Tem Green-Fletcher's proudest accomplishments is being a part of the creation and future opening of Central Creek Park: a world-class, 13-acre all-abilities recreational opportunity for the residents of Goose Creek and neighboring communities. Her vision and unwavering commitment to the importance of an all-abilities park was paramount to Central Creek Park's creation. Anchoring the park and the catalyst for barrier-free recreation are three dynamic, state-of-the-art features including Debra's Playground, named in her honor. Debra is a loyal supporter of the City Recreation Department and a champion for the generations of young people who will benefit from barrier-free recreation experiences.   
As part of her City duties, Mayor Pro Tem Green-Fletcher also serves on the Charleston Area Transportation Study (CHATS), our region's designated Metropolitan Planning Organization (MPO). MPOs are responsible for carrying out the region's transportation planning process. She is part of the CHATS governing body, the Policy Committee Board, representing governmental and transportation-related organizations throughout the Lowcountry. 
Moving to Goose Creek in 1981 with her then four-year-old daughter, Jennifer, Mayor Pro Tem Green-Fletcher has been a Realtor ® for over 40 years. She currently is affiliated with Carolina One Real Estate and is a member of the Charleston Trident Association of Realtors ®. "It has been a privilege to raise my family and build a successful real estate career in our community," she said. "Goose Creek is truly a wonderful place to live, work and play. I'm always proud to call Goose Creek my home."
Public service and commitment to community runs deep in Debra's family history. Her great-grandfather was the mayor of her hometown in the late 1800s, and her grandfather, father, and uncle all served on the village council. Through their examples, Debra learned the importance of community service and servant leadership. "I believe in Goose Creek, and I serve on our Goose Creek City Council to give back to the community that has given so much to me," she said.
Mayor Pro Tem Green-Fletcher's philosophy on public service is simple. "Elected officials and community leaders should be visible, accessible, and approachable. That's what I've strived to be since being elected to City Council. I've enjoyed serving our citizens, and I look forward to working together to ensure Goose Creek continues to be economically prosperous and a great place to call home."
Debra and her husband, Tom, have been married since 2000. They attend St. John's Lutheran Church. Her daughter Jennifer graduated from Stratford High and earned undergraduate and graduate degrees with honors from the University of South Carolina. Jennifer and her husband Mike have one son, Matthew, who is the greatest joy of his grandmother's life. They make their home in northern Virginia.
« Back to Staff