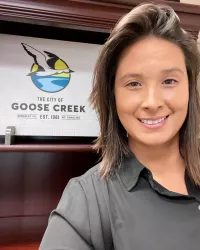 Crystal Reed

Recreation

Title: Recreation Director

Phone: 843-569-4242 ext. 5285
rystal Reed joined the City of Goose Creek on Sept. 27, 2021, when she became the City's Recreation Director. 
Crystal's time as director has included the opening of the hugely popular Central Creek Park, as well as the John McCants Veterans Park. She continues to lead the Recreation Department with passion and enthusiasm.
Crystal arrived in Goose Creek from the City of Charleston where she spent 12 years, including nine as Recreation Programs Superintendent. In that position, she supervised multiple divisions including Environmental Education, Community Programs and Playgrounds, Marketing, Therapeutic Recreation, Special Events, and three Community Centers. She worked closely with other City Departments as well as community partners and local non-profit organizations.
She previously served as Facility Manager and Special Event Coordinator in Charleston.
She began her Recreation Management career as the Town of Mount Pleasant's Soccer and Therapeutic Recreation Specialist before being promoted to Coordinator. She managed all aspects of the Soccer Program including the Youth Recreation League, Adult League and Travel Program in addition to creating a wide range of inclusive activities for the Special Needs community.
Crystal is a graduate from Ohio University where she majored in Therapeutic Recreation and played Division 1 Women's Soccer.
« Back to Staff