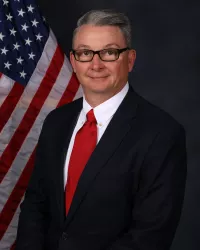 Chuck Denson

Public Works

Title: Director of Public Works

Phone: (843) 824-2200 ext. 4263
Chuck Denson became the City of Goose Creek Department of Public Works Director in December of 2017. He had served as Assistant Director from 2003 to 2017, and brings a lifetime of experience to the job.
Chuck arrived in Goose Creek in 1974 as his father's final duty station was at the Charleston Naval Base. After graduating from Stall High School, he worked as a manager for a regional restaurant chain before entering the apprentice program at Charleston Naval Shipyard. 
After being re-assigned due to the downsizing and eventual closure of Charleston Naval Shipyard, Chuck completed his apprenticeship as a Marine Machinery Mechanic at Trident Refit Facility in Kings Bay, GA. While working at TRF, he completed his Associate's Degree and returned to the Charleston area to complete a Civil Engineering degree at The Citadel.
After gaining a wide array of experience in the field, Chuck joined the City's team in 2003, where he would go on to serve as City Engineer in addition to Assistant Director.
Chuck obtained his Master of Business Administration degree from The Citadel in 2009.  He is a member of the American Public Works Association and the American Water Works Association, and is a licensed professional engineer in the state of South Carolina.
« Back to Staff