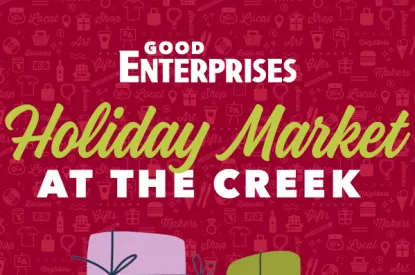 Holiday Market at the Creek

Dec 11 2022 2:00pm - 5:00pm

201 St. James Avenue

Lowcountry Local First

843-801-3390
Join us for a special pop-up Holiday Market in Goose Creek featuring graduates of Good Enterprises' Community Business Academy. Over 25 small business entrepreneurs will be selling a variety of goods including jewelry, clothing, gifts and delicious food and beverage offerings.
Let's celebrate just how GOOD it feels to buy local for the holidays!
Location Info: 
REV Federal Credit Union, outdoors
201 St James Ave, Goose Creek, SC 29445
This free, family-friendly event is hosted in partnership with Lowcountry Local First, The City of Goose Creek and REV Federal Credit Union. 
Click the Facebook link to RSVP and view vendor information.
« Back to Events