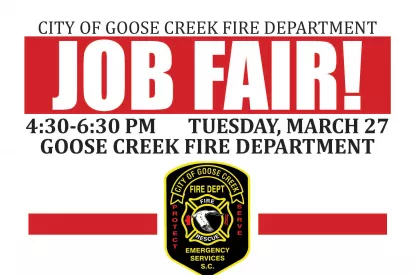 Fire Department Job Fair

Mar 27 2018 4:30pm - 6:30pm

Goose Creek Fire Department Headquarters Station
You're invited to explore some of the great job opportunities at the Goose Creek Fire Department. A GCPD Job Fair will be held from 4 to 6:30 p.m. on Tuesday, March 27 at the Goose Creek Fire Headquarters Station on Button Hall Avenue. Several positions have current openings, including Firefighter/EMT, Firefighter/Paramedic, and as-needed Paramedics. Benefits include Health/Vision/Dental coverage, State retirement, paid vacation and sick leave, 10 paid holidays and a $5,000 education reimbursement. View all City of Goose Creek open positions.  View/download the Job Fair flier.
« Back to Events