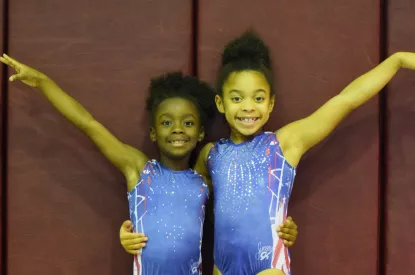 Young gymnasts notch top 100 national scores

Aug 21 2017
Two young Goose Creek gymnasts are poised to make a splash on the national stage.
Amiyah Haynes and Chloe Carr, both 8 years old, are enrolled in City of Goose Creek Gymnastics. Both girls scored in the top 100 in the nation in recent competition.
Amiyah and Chloe participate in USA Gymnastics' Talent Opportunity Program (TOPs), which identifies the nation's best young gymnasts. 
This summer, Amiyah and Chloe attended two statewide testing sites. In order to advance to the National Qualifier, they each had to score high enough to place in the top 100 nationally in their age group – and did just that.
Both placed in the top 100, and will attend the TOPs National Qualifier to be held in Hunstville, TX, in October at the U.S. Olympic/USA Gymnastics National Team Training Center.  A Top 50 finish there would earn a trip back to the National Training Center for camps and clinic opportunities throughout the 2017-2018 competition season.
"This is a huge accomplishment and will be a great experience for them," City of Goose Creek Gymnastics Coach Stacey Croston said.
The TOPs program is under the direction of the National Pre-Elite Committee, with assistance from the National Coaching Staff and the National Team Coordinator with USA Gymnastics. 
To learn more about the City of Goose Creek Gymnastics program, call Coach Croston at (843) 572-1321 ext. 1.
« Back to News