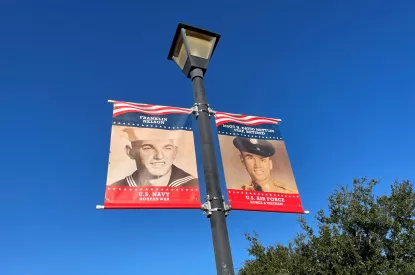 Veterans Banners can be picked up at City Hall

Dec 12 2021
Our Veterans Banners that were displayed throughout November at City Hall and the John McCants Veterans Park will be taken down on Wednesday, Dec. 1.
For those who purchased a banner and would like to keep it, they will be available for pick-up at City Hall beginning Thursday, Dec. 2 at 12 noon. Thanks to everyone who purchased a banner. We are planning to again honor our Veterans with banners in 2022. The sale of the banners will take place online over the summer, and we will give everyone plenty of notice about the sale as that date gets close next year.
« Back to News