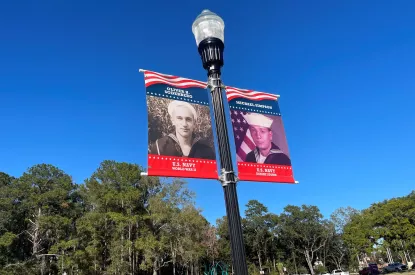 Veterans Banners available for purchase for November display

Aug 4 2023
We are excited to announce the sale of Veterans Banners in 2023. The banners will be displayed throughout the month of November at the John McCants Veterans Park and at the Municipal Center. Goose Creek residents are invited to purchase a banner in honor of the special Veteran in their lives.

The banners are $100, and orders & payments will only be accepted digitally.
Orders will be accepted until either Aug. 18 or until 100 are received. Please limit orders to one per family to allow as many residents as possible to participate. The City will announce if the limit is reached before Aug. 18. After the banners are displayed in November, they will be available for pickup at City Hall.
This is a new sale; any banners purchased in 2021 or 2022 will not be displayed again in 2023. However, anyone who purchased a banner in the past is welcome to do so again in 2023.
« Back to News