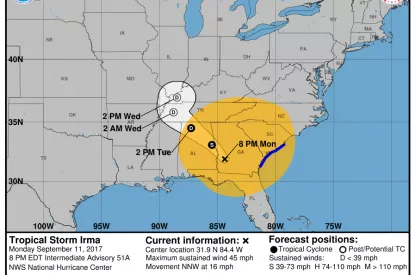 Tornado Watch remains in effect Sept. 11

Sep 7 2017
A tornado watch remains in effect for Goose Creek and the rest of the South Carolina Lowcountry Monday night, as wind and rain from Hurricane Irma continued. 
There are currently reports of traffic lights out in Goose Creek, including at the intersection of Liberty Hall Road and Hwy. 52. Please use extreme caution if you must be out on the roads this afternoon.
As a reminder, for intersections with traffic signals that are are flashing red for one street and yellow for the perpendicular street, those with the yellow light should proceed with caution and those with the red light should stop as if at a stop sign. Intersections with traffic signals that are not working should be treated as if the intersection had a four-way stop sign.
The latest National Hurricane Center projections on Monday show Hurricane Irma continuing a North-Northwest path through Florida and into Georgia.
The storm is weakening, yet is expected to bring tropical storm conditions to the Lowcountry throughout Monday. Wind and rain is expected, and storm surge along the coast is also a concern.
Read the latest news update on the hurricane.
On Friday night South Carolina Gov. Henry McMaster announced no mandatory evacuation of the Lowcountry. The governor stressed that the forecast could still change and that precaution should be taken. 
The City of Goose Creek remains prepared for any effects that Hurricane Irma may bring.
Residents are encouraged to continue to use local and national media to stay updated on the storm and to take precaution. Berkeley County has announced a citizen hotline for non-emergency Hurricane Irma-related questions. Call (843) 719–4800.
Read the latest on Hurricane Irma.
The South Carolina Emergency Management Division's 2017 S.C. Hurricane Guide contains information regarding evacuation zones, and a wealth of additional information.
The City of Goose Creek has announced an updated list of cancellations for the days ahead. Berkeley County Schools will be closed Friday through Tuesday.
Gov. McMaster declared a State of Emergency on Wednesday as the chances of the storm affecting the Southeastern U.S. increased. 
On Wednesday, Berkeley County announced information on where to obtain sandbags on its Facebook page.
In addition to this website, the city will deliver information related to Goose Creek via our City of Goose Creek Facebook page, as well as the city's Twitter account (@GooseCreekSC).
The South Carolina Department of Transportation's website initiated a Hurricane Irma page on Wednesday. 
The SCEMD's website is also a valuable reference tool.
The American Red Cross website features a Hurricane Safety section with a wide array of tips and information to keep your home and family safe during a storm.
The National Oceanic and Atmospheric Administration's National Hurricane Center website has the latest storm information, from coordinates to forecasts, as well as advisories and warnings. 
Weather Underground's Hurricane Irma page also provides the storm's latest movements, along with a collection of the best predictors of its course.
Helpful information from Charleston Water System can be found here.
« Back to News