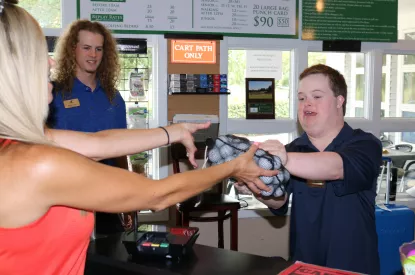 Stratford student enjoying summer job at Crowfield

Jul 26 2019
A summer volunteer at Crowfield Golf Club has quickly won over the Club's regular patrons.
Henry O'Grady, a rising junior at Stratford High School, can be found at Crowfield two days a week. The soon-to-be 17-year-old is an enthusiastic member of the golf course team.
From helping customers behind the clubhouse counter to checking on the golf course, and lots in between, Henry stays busy. "And it takes a lot to keep him busy," his mother, Barbara, said with a laugh. "He's got so much energy."
Barbara says she is proud of her son, who was born with both Down Syndrome and Autism. "He's not as talkative as other kids, but he's very communicative with his body language," she said.
Several months ago, Barbara approached Crowfield General Manager Troy Sanders about the possibility of Henry volunteering at the golf course – one of the teen's favorite places. "He's been playing golf since he was 4 or 5 years old," she said. "Golf is his passion."
While she was unsure how Henry's new summer job would work out, it has been a winner for both sides. "Henry has been great," Sanders said. "And we appreciate him helping us out this summer."
"Troy has really taken Henry under his wing," Barbara said. "They have gone over and beyond – they do try to involve Henry in everything that they do during the day. The City has done so much for Henry … I'm just really blown away. 
"I could not be more proud."
Barbara says that although Henry enjoys playing golf at courses throughout the Lowcountry, Crowfield is his home course, and when he's not volunteering, he enjoys nothing more than to be playing. Henry's swing is self-taught, she says, and it works. "He loves the game so much," she said.
Crowfield Golf Club is a public course owned and operated by the City of Goose Creek, and is open to everyone. Visit Crowfield Golf Club online.
« Back to News