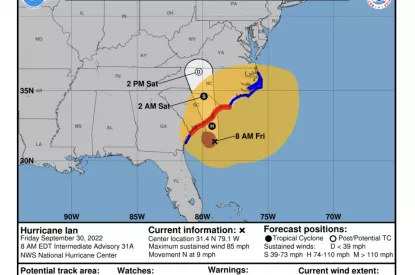 Storm aftermath: Please use caution; County provides link to report damage

Sep 30 2022
Please report storm damage to Berkeley County at this link: https://berkeleycountysc.gov/dept/epd/storm-damage/ or call 843-719-4800.
***
Friday, Sept. 30, 7:00 p.m. Update: Please us caution as damaged lights and traffic signals are replaced and repaired. 
***
Friday, Sept. 30 2:25 p.m. Update: The City has returned to normal emergency response operations. Please continue to stay off of the roads as our crews begin the process of clearing trees, limbs and debris. 
Please use extreme caution after the storm is over; rain-soaked soil increases the risk of trees falling. 
***
Friday, Sept. 30 12:50 p.m. Update: Because of the current sustained wind speed, we are temporarily suspending the use of the City's high profile emergency vehicles, including fire engines and ambulances. Conditions are also temporarily preventing us from clearing tree limbs from roadways in several spots. These limbs will not be moved until it is again safe to send crews out.
***
Friday, Sept. 30 10:10 a.m. Update: Several electric outages have been reported. To report an outage to Berkeley Electric, call 888-253-4232 or visit their outage center at: https://www.berkeleyelectric.coop/outage-center
City crews were out at first light re-checking ditches, lakes and ponds; and assessing wind damage so far.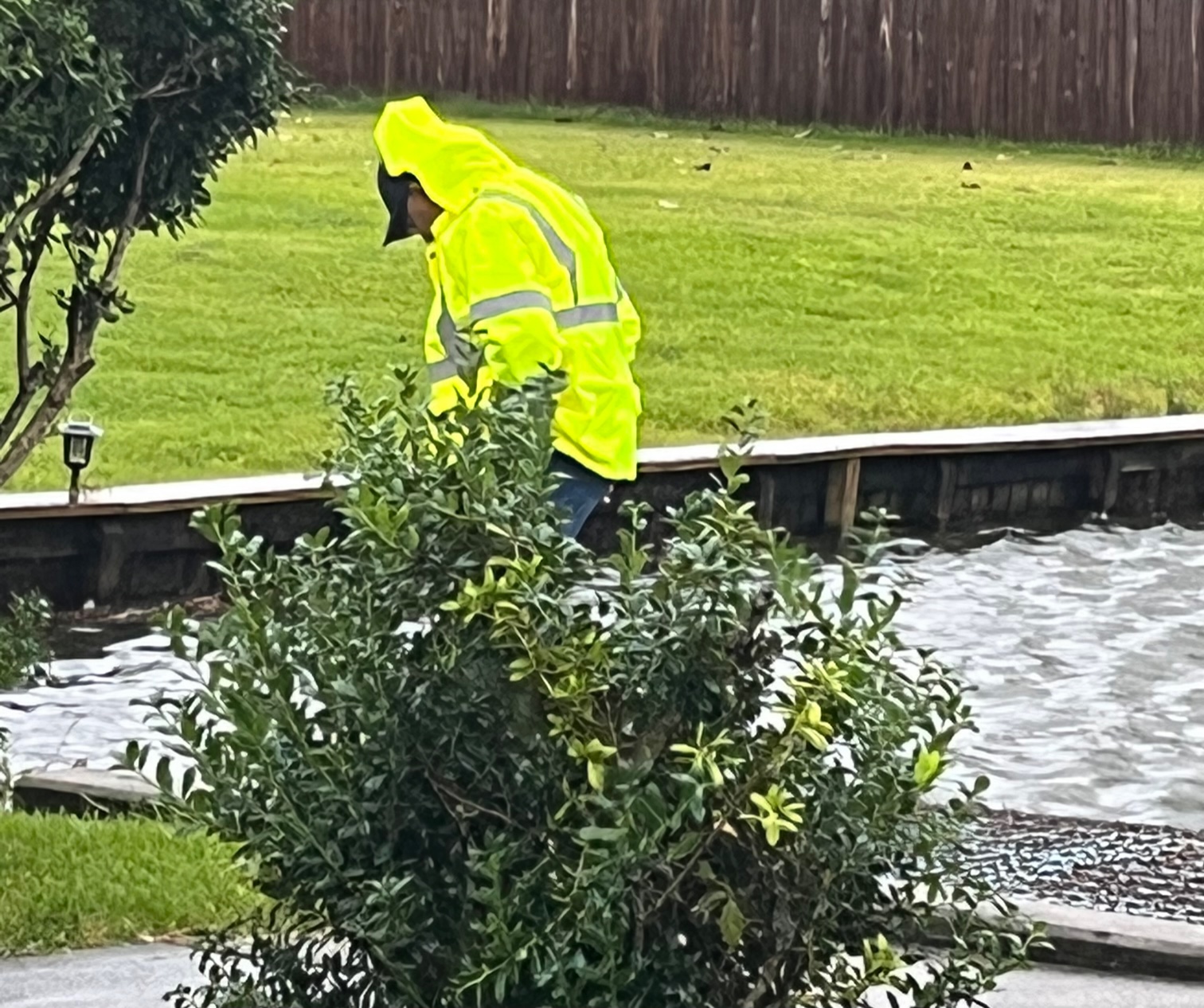 ***
Friday, Sept. 30 8 a.m. update: Although Hurricane Ian's cone has shifted slightly to the north, its impacts will be significant throughout Friday. Please stay off of the roads, and stay inside until the storm has passed.
Our Public Works crews have checked all lakes, ponds and storm drains. All appear to be flowing properly, and a new check will take place as soon as it is daylight.
City offices are closed Friday. The City's non-emergency number can be reached at 843-572-4300; and if you have an emergency please call 911. Mayor Habib has ordered additional Fire and Police staffing for the duration of the storm and its aftermath.
We encourage all residents to continue to follow local news for weather conditions as they can change rapidly.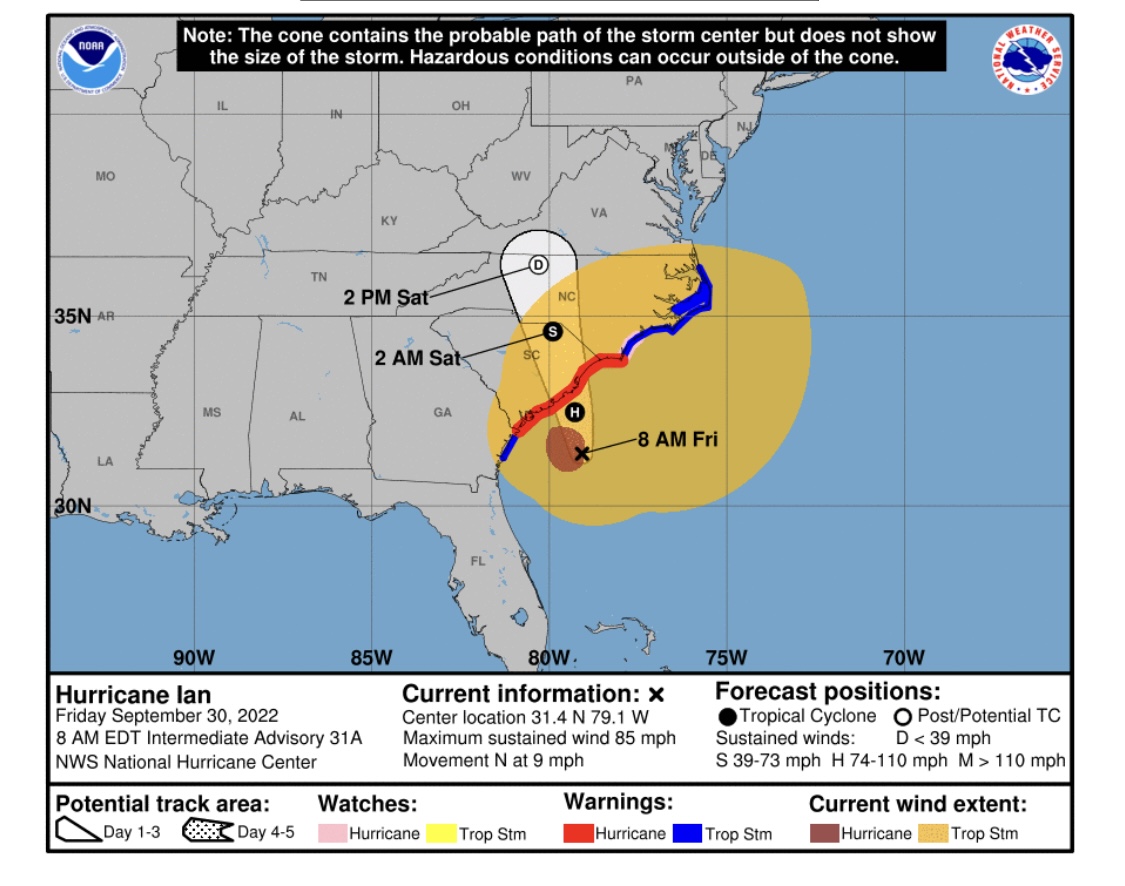 ***
Thursday, Sept. 29, 8:20 a.m. update: The Lowcountry will begin to feel impacts from #Ian today, with strong winds and heavy rain on Friday.
City offices, including Recreation, will close at noon Thursday, and remain closed on Friday.
There will be no residential trash pickup on Friday. We are planning for Friday's trash pickup to take place on Monday.
Sand & sand bags remain available at the GCFD Headquarters Station. Our sand bags are currently low, and we have requested more from the County.
Crowfield Golf Club will close on Friday; re-opening information will be posted after the course's condition is assessed following the storm.
Please do not plan on driving or leaving your home after conditions begin to deteriorate on Friday.
After City offices close at 12 noon Thursday, please us the City's non-emergency number – 843-572-4300 – if you need assistance. For emergencies, please use 911. Berkeley County's Citizen Call Line is also available for non-emergency calls, and that number is 843-719-4800.
Please make sure any loose items around your home are secured inside, as we are expecting very strong winds throughout the area.
Please continue to follow our local media for the latest storm information.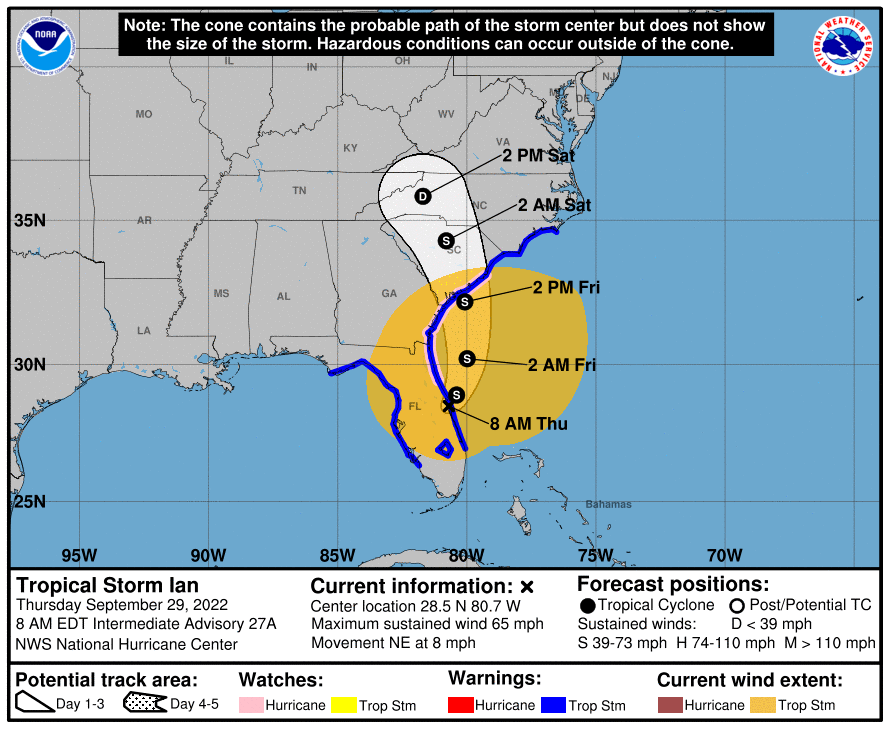 ***
Wednesday, Sept. 28, 4:50 p.m. update:
City offices will close at 12 noon on Thursday, and will be closed all day on Friday.  
Because the Berkeley County landfill is closing early on Thursday, residential trash pickup will not take place on Friday.
For those of you whose trash pickup day is Thursday: Our crews will be out earlier than usual because of the landfill closing. Please have your roll carts in place early.
Additional sand bags have been delivered to our GCFD Headquarters Station. 
A Hurricane Watch has been issued for South Carolina's Lowcountry, including Goose Creek. 
Read the latest Hurricane Ian updates from Live 5 News.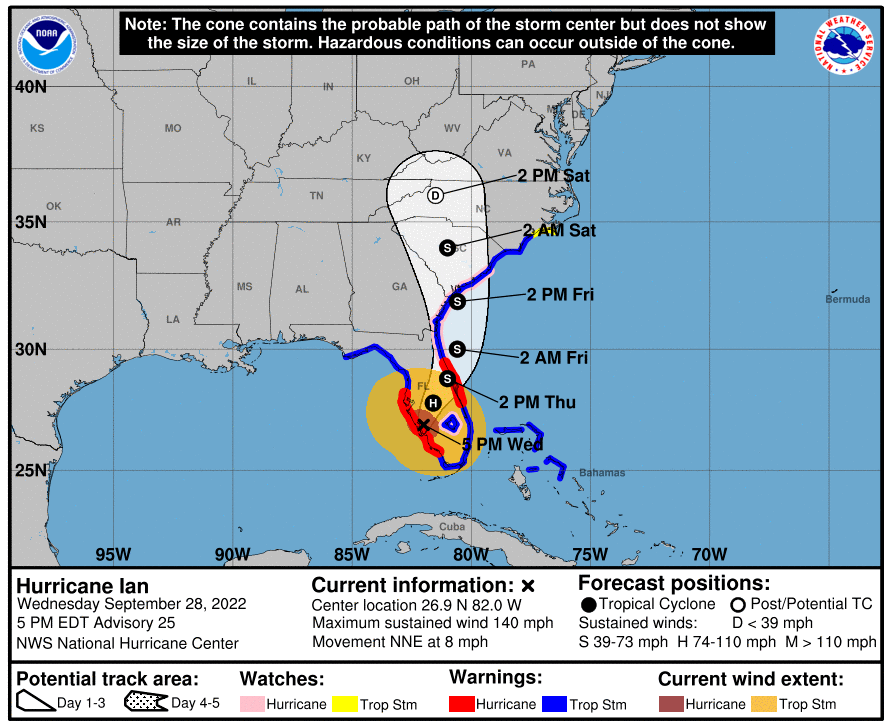 ***
Wednesday, Sept. 28, 8:30 a.m. update: A Tropical Storm Warning has been issued for Goose Creek, along with most of the South Carolina Lowcountry.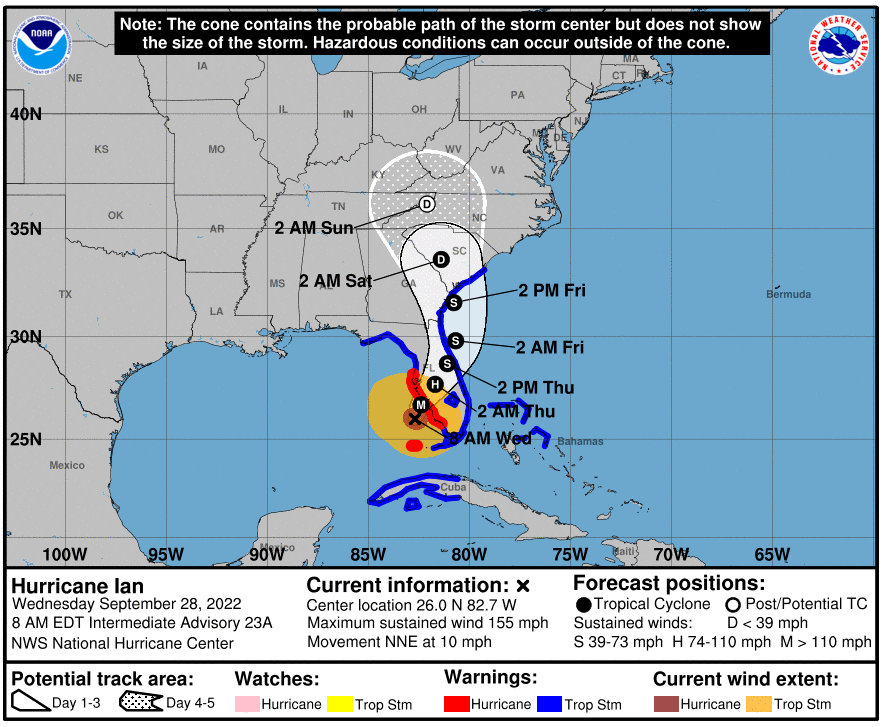 ***
Tuesday, Sept. 27, 3:25 p.m. update: The City has received a sand shipment from Berkeley County, and sand bags are currently available at the Goose Creek Fire Department Headquarters Station. We are asking each resident to limit the number of sand bags to 10. 
Thursday morning update: We are continuing to prepare for heavy rain and possibly windy conditions beginning Thursday.
Here's the latest on Hurricane Ian and what it could bring to the Lowcountry from WCBD News 2.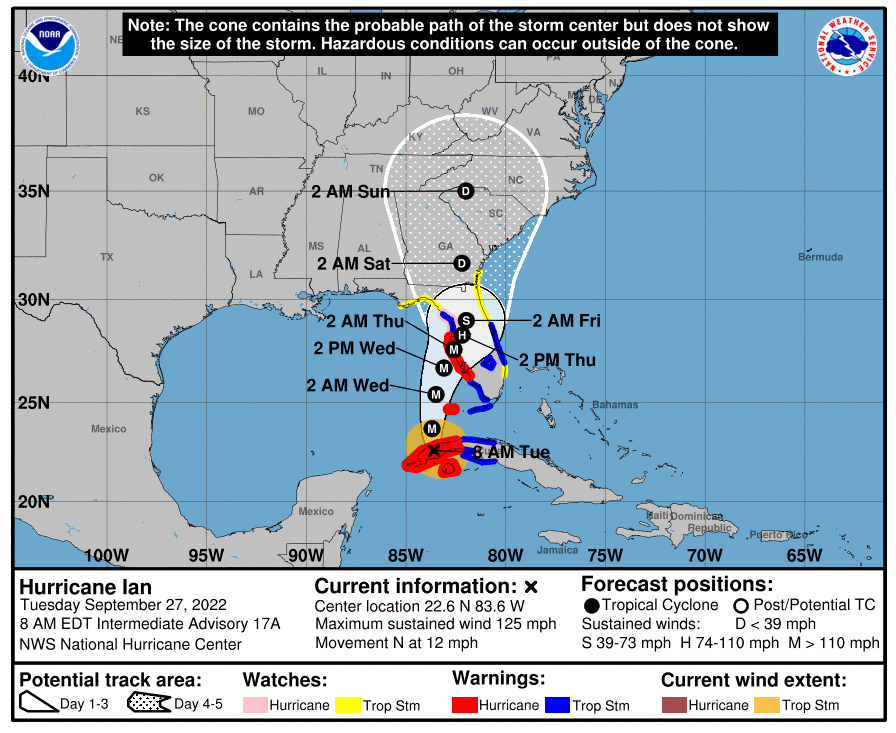 ***
Sept. 26 Update:
We are closely monitoring Hurricane Ian, which is expected to bring heavy rain to the Lowcountry beginning on Thursday, Sept. 29.
The rain could potentially cause flooding in some areas. We will update residents with any schedule changes here. 
Check out Live 5 News latest update on the storm from Sept. 26.
« Back to News