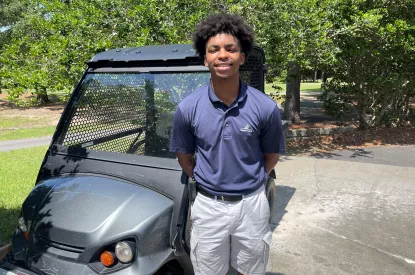 SHS grad enjoys job at Crowfield

Jun 28 2022
Braxton Williams is a familiar face at the City's Crowfield Golf Club. The recent Stratford High School graduate began working at the golf course 15 months ago.
What does he enjoy most about his part time job? "The outside environment – that's what I like most," he said. "I like being outside, working outside, so I'm not cooped up somewhere. I like to move around and get a little exercise."
Braxton says he "does a little bit of everything" on the job, from working on the driving range to managing and cleaning golf carts. "Whatever is asked of me that day," he said.
While he isn't an avid golfer, being at Crowfield has given him a new perspective of the sport. "I enjoy it," he said. "I had no idea until I started working here … it's a pretty fun sport."
Braxton will begin his college career at Johnson C. Smith University in Charlotte this fall. 
Thanks for the visit, Braxton, and keep up the great work!
« Back to News