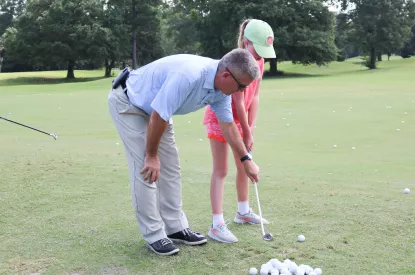 Second Crowfield Golf Pro earns PGA certification

Jul 9 2018
Crowfield Golf Club now has two PGA-certified Golf Professionals available to Goose Creek residents.
Crowfield Assistant Golf Professional Dan Meyer recently completed the PGA Professional Golf Management Program to officially become a Class A PGA Member. The three-level management program is conducted by the PGA.
The rigorous program includes playing ability testing; on-the-job training; a one-week seminar at PGA Headquarters in Port St. Lucie, FL; extensive online training and required reading; and testing on a wide range of subjects.
Meyer joins Crowfield Head Golf Professional Bobby Donnellan as Crowfield's second PGA-certified instructor.
"Dan had been a great addition to our team," Crowfield Golf Director Troy Sanders said. "Having two Class A PGA Professionals on our staff is something we should all be proud of for our level of golf club. Both Bobby and Dan bring a great level of maturity and experience to our pro shop.
"Also, the potential for expanding our golf instruction – especially with the popular ladies and junior clinics – is very exciting."
Meyer, who completed the PGA program in four years, has been at Crowfield for two years. He loves his job. "Golf is a second career for me as I sold plumbing supplies wholesale for 27 years in the Chicagoland area," he said. "I started my PGA journey five years ago in Columbia working at the Windermere Club."
After moving to the Lowcountry with his wife, Lori, Meyer worked at Dunes West Golf Club for two years as an Assistant Golf Professional, before joining the Crowfield team. "I love golf and I enjoy helping others enjoy the game," he said.
Crowfield Golf Club can be reached at (843) 764-4618.
Watch Dan Meyer and Bobby Donnellan in action during Crowfield's recent "Swing and Swim" camp for young golfers:
« Back to News