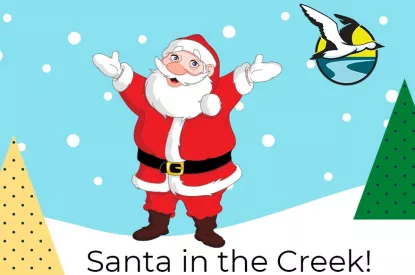 Santa visits Goose Creek: Wednesday, Dec. 8 Schedule

Dec 7 2021
Throughout the holidays, our Goose Creek Police and Fire Departments are going to spread Christmas cheer throughout the City by giving Santa a ride around our different neighborhoods! Kids can wave at Santa as he rides by their house in a Goose Creek Fire Truck, escorted by the Goose Creek Police. Santa in the Creek will take place from 5:30 p.m. until the route is finished. 
The dates are as follows: Dec. 6, 7, 8, 9, 13, 15 and 16. In the event the weather is too bad for him to make it from the North Pole on any of those days, he will use Dec. 20 as a makeup date. Exact routes will be posted here at least one day in advance of each schedule visit.
Please remember that Santa can't make it to every single street in every neighborhood, so if you live on a side street please plan to come to one of the streets listed on the City's website. Also, Santa only comes to the neighborhoods within the city limits.
Day 3: Wednesday, Dec. 8
Branchwood Apartments
Foxborough Townhomes
Brandywine Townhomes
Shannon Park Apartments
Etiwan Apartments
Longleaf:
Wildberry Lane to right on Maypop Drive
Maypop Drive to left on Thistle Road
Thistle Road to left on Vinca Drive
Vinca Drive to right on Wildberry Lane
Wildberry Lane to left on Larkspur Drive
Larkspur Drive to right on Maypop Drive
Maypop Drive to right on Wildberry Lane
Birch Hollow Mobile Home Park:
Barksdale Road to right on Bayboro Circle
Bayboro Circle to right on Barksdale Road
Barksdale Road to right on Liberty Hall Road
Waterford Townhomes
Wedgewood Townhomes
Liberty Hall Plantation:
Adler Road to right on Cypress View Road
Cypress View Road go straight onto Slow Mill Dive
Slow Mill Drive to left on Border Road
Border Road to right on Slow Mill Drive
Slow Mill Drive to right on Broken Branch Drive
Broken Branch Drive to left on Adler Road
Adler Road to right on Clayburn Drive
Clayburn Drive to right on Old Jackson Road
Old Jackson Road to right on Clayburne Drive
Clayburne Drive to left on Old Carolina Drive
Old Carolina Drive to right on Salem Creek Drive
Salem Creek Drive to left on Adler Road
« Back to News