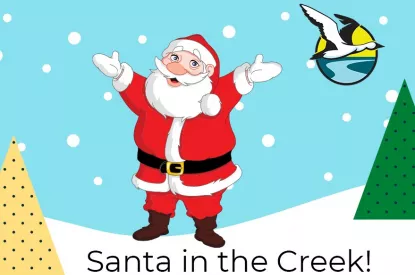 Santa visits Goose Creek: Thursday, Dec. 16 Schedule

Dec 16 2021
Throughout the holidays, our Goose Creek Police and Fire Departments are going to spread Christmas cheer throughout the City by giving Santa a ride around our different neighborhoods! Kids can wave at Santa as he rides by their house in a Goose Creek Fire Truck, escorted by the Goose Creek Police. Santa in the Creek will take place from 5:30 p.m. until the route is finished. 
Please note that Santa's visits will continue on Dec. 20.
Please remember that Santa can't make it to every single street in every neighborhood, so if you live on a side street please plan to come to one of the streets listed on the City's website. Also, Santa only comes to the neighborhoods within the city limits.
THURSDAY, DEC. 16 SCHEDULE
Gibbes Forrest:
Westview Boulevard to right on Carter Drive
Carter Drive to right on Belleplaine Drive
Belleplaine Drive to right on Prospect Way
Prospect way to left on Westview Boulevard
Piedmont Place:
Westview Boulevard to left into first Piedmont Place entrance
At stop sign turn right on Winding Rock Road
Go straight past two cul-de-sacs on left and turn left onto Winding Rock Road
Follow Winding Rock Road around to exit of subdivision on left
From exit turn left on Westview Boulevard
Deerfield Place:
Westview Boulevard turn left onto 8 Point Road
8 Point Road to right on Hidden Fawn Circle
Hidden Fawn Circle to right on Deerfield Drive
The Commons 1 and 2:
From Crowfield Boulevard turn onto Planters Boulevard
Planters Boulevard to left into the Commons1 at stop sign turn left on Commons Way
Commons Way to right on Chownings Lane
Chownings Lane to left on Commons Way
Follow Commons Way all the way back to the exit that leads to Planters Boulevard
Turn right on Planter Boulevard
Planters Boulevard to left on Indigo Lane
Indigo Lane to left on Carlyle Street
Carlyle Street to right on Mallory Drive
Mallory Drive to right on Candleberry Circle
Candleberry Circle to right on Blenheim Court
Blenheim Court to left on Planters Boulevard
Planters Boulevard to left on Crowfield Boulevard
Stratford Forrest:
Crowfield Boulevard to right on Londonderry Road
Londonderry Road to left on Keighley Drive
Keighley Drive to u-turn in cul-de-sac
Keighley Drive to left on Londonderry Road
Londonderry Road to right on Stratford Drive
Stratford Drive to right on Queensbury Circle
Queensbury Circle to right on Stratford Drive
Stratford Drive to left on US Hwy 176
176 to left on Gainsborough Drive
Friars Grove:
Gainesborough Drive to left on Fairhaven Drive
Fairhaven Drive to u-turn at cul-de-sac
Fairhaven Drive to left on Gainesborough Drive
Coventry Green Apartments
Bedford Chase:
Exit Coventry Green Apartments and go straight across Gainesborough onto Guildford Drive
Guildford Drive to u-turn at cul-de-sac
Guildford Drive to left on Gainesborough Drive
Hearthstone:
Gainesborough Drive to right on Hearthstone Circle
Hearthstone Circle to left on Gainesborough Drive
Cadbury:
Gainesborough Drive to right on Isherwood Drive
Isherwood Drive to right on Galsworthy Drive
Galsworthy Drive to left on Golding Lane
Golding Lane to right on Monsarret Lane
Monsarret Lane straight across Centennial Boulevard into Pembroke
« Back to News