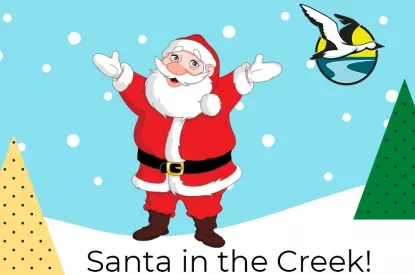 Santa visits Goose Creek: Monday, Dec. 20 schedule

Dec 20 2021
Santa's final visit to Goose Creek neighborhoods takes place on Monday, Dec. 20! Santa in the Creek will take place from 5:30 p.m. until the route is finished. 
Please remember that Santa can't make it to every single street in every neighborhood, so if you live on a side street please plan to come to one of the streets listed on the City's website. Also, Santa only comes to the neighborhoods within the city limits.
Schedule for Monday, Dec. 20: 
Carnes Crossing:
1st Avenue to left on Parish Farms
Parish Farms to right on Hewitt
Hewitt to right on Carnes Crossing
Carnes Crossing to 17A
Marrington Village
Shellpoint
Cobblestone Village Apartments
Beckstone Apartments
Waters at St. James Apartments
Greenpoint Mobile Home Park:
Myers Road to right into first entrance of Greenpoint on Greenpoint Drive
Follow Greenpoint Drive around to Myers Road
St. James at Goose Creek Apartments
« Back to News