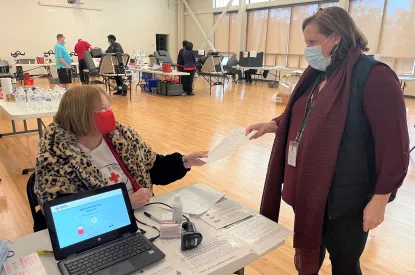 Register to give blood on Friday, May 27

May 26 2022
Make your appointment today to give blood at a City of Goose Creek Emergency American Red Cross Blood Drive at the Activity Center in the Aerobics Room from 9 a.m. to 3 p.m. on Friday, May 27. The blood drive will include COVID-19 antibody testing. Those who donate will receive an exclusive 20 oz. Red Cross aluminum water bottle and sticker set while supplies last.
Please make an appointment to give blood on May 27.
A number of precautions have been implemented for the blood drive:
Volunteers and Staff will change their gloves in between every donor.
Every donor's temperature will be taken before entering.
Volunteers and Red Cross staff will change gloves in between every donor.
Volunteers will wipe down the sign-in laptop between every donor.
All staff, volunteers and donors must wear masks. The Red Cross will provide masks, or you can bring your own.
Donors may wait outside after check-in, and staff will call/text when it is their turn.
It is important to note that the American Red Cross is regulated by the CDC and FDA. It is safe to give blood as long as you follow all the precautionary measures that the Red Cross has put into place the day-of the blood drive. This includes temperature checks upon arrival, sanitation, and social distancing. 
To make an appointment to donate, or for more information, call City Clerk Kelly Lovette at (843) 797-6220 ext. 1113, email City Clerk Kelly Lovette, or visit www.RedCrossBlood.org online and entering sponsor code CityofGooseCreek. Save time by visiting www.RedCrossBlood.org/RapidPass to complete a pre-donation reading and answer health history questions.
Read more about eligibility requirements.
Learn about the Red Cross Power Red Donation.
Everyone is invited to take part in the blood drive. All donors will be entered in a raffle, and City employees who donate will receive a 1-hour Wellness Reward.
« Back to News