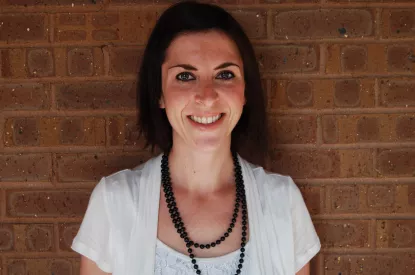 Recreation coordinator earns national certification

Mar 7 2017
City of Goose Creek Recreation Program Coordinator Kara McKeown was recently recognized as a Certified Park and Recreation Professional (CPRP) by the National Certification Board and the National Recreation and Park Association. 
McKeown earned the certification by meeting several eligibility requirements – including a combination of higher education and work experience – and completing the national CPRP examination. 
As a CPRP, McKeown meets high standards of education, expertise and experience established in the field for park and recreation professionals. Many agencies recommend or require CPRP certification when hiring.
Goose Creek Recreation Supervisor Cheryl Heiselman said McKeown's recognition is well deserved. "Kara's commitment to her job, to this department, and to the Goose Creek community is unmatched, and this certification reflects that," Heiselman said. "We are very proud of her."
McKeown joined the Goose Creek Recreation Department as a Recreation Specialist in March 2015, after three years at the City of Charleston Recreation Department. She was promoted to the Program Coordinator position in January 2016.
McKeown is a graduate of the State University of New York at Cortland where she obtained her Bachelor of Science degree in Recreation Management.
As program coordinator, McKeown is responsible for overseeing the city's special events, including the Barbecue Festival, Fabulous Fourth in the Creek, concert series, and holiday events, as well as various programs held at the Goose Creek Community Center.
Goose Creek Recreation is committed to providing programs, services, and facilities that promote a healthy lifestyle and foster meaningful community connections. 
« Back to News