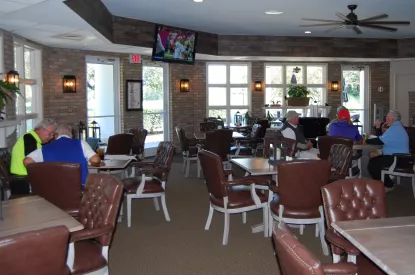 Public invited to view Crowfield Golf Club improvements Dec. 2

Nov 22 2017
A unique renovation project is nearing completion at the City of Goose Creek's public golf course.
The bar area of Crowfield Golf Club, including its patio, has received a facelift under the direction of Stacey Quinn Williams of Quinn Williams Design.
City residents can see the improvements firsthand at an open house from 11 a.m. to 2 p.m. on Saturday, Dec. 2.  Crowfield Golf Club is located at 300 Hamlet Circle.
Goose Creek City Council authorized the improvements, and asked Williams to draw on the city's history in the redecoration. The talented designer has done just that.
"We wanted to play up the history of Crowfield Plantation and the entire area," she said. "We wanted to give the clubhouse a more historic feel and character."
New tables with tufted faux leather chairs are improvements that also bring an increased seating capacity. The bar and dining area's capacity increased from 49 to 65 inside, and from 16 to 50 outside.
The restrooms that connect to the bar received new faux wooden floors, and fresh carpeting was installed throughout the bar and dining area. A freestanding brick wall creates space for the clubhouse's "grab and go" area for golfers, and new granite bars and tables were placed outside. More space was created by turning a closet area separating the bar from the golf clubhouse into a dining nook where buffet spreads can be placed.
Williams turned to Goose Creek Mayor Michael Heitzler for historical images that are now displayed in frames on the clubhouse walls. The images, coupled with brick and rough-hewn cedar walls, drop leaf tables and lanterns, have brought a real sense of history to the interior.
"All of the images came from the Mayor's archive," Williams said.
In addition to a historical map, the images include the Crowfield ruins, Oaks Plantation, and the Goose Creek Bridge.
The renovations are not all historical in nature: Two new 55-inch televisions were added to the dining area, and new ceiling fans inside and outside were also added.
Williams, the sole proprietor of Quinn Williams Design, said she is pleased with the finished product: "I'm very happy with it."
City of Goose Creek Golf Director Troy Sanders said the project has been well received. "City Council wanted to refresh an aging facility due to the amount of people we have here," he said. "A lot of people don't realize the amount of traveling golfers we receive every month … we see everything from summer vacationers to package groups in the fall and winter from cities with colder climates.
"Stacey's done a fantastic job."
« Back to News