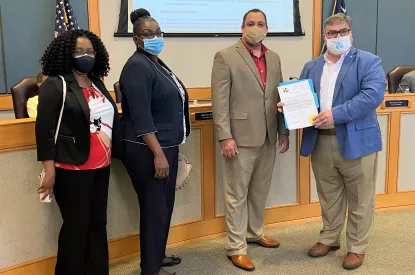 Plasma Donor Appreciation Week proclaimed in Goose Creek

Apr 15 2021
At the April 13 Goose Creek City Council meeting, Mayor Habib welcomed CSL Plasma Donation Center manager Lorenzo Bowser and assistant managers Nichole Bell and Tanya Allen to City Hall, as he proclaimed April 12 to 16 Plasma Donor Appreciation Week in Goose Creek. CSL Plasma Donation Center is located in North Charleston.
Plasma donation "by the citizens of Goose Creek will help ensure a consistent and reliable supply of critically needed medicines," Mayor Habib said.  
Learn more about plasma donating.
« Back to News