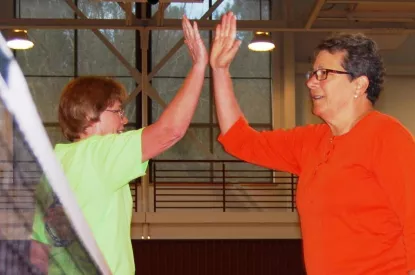 Pickleball courts available 5 days a week; outdoor court opens

Mar 20 2018
Good news, Pickleballers! Indoor Pickleball courts are now available at the Goose Creek Community Center from 9 a.m. to 1 p.m. Monday through Friday. 
The court availability will return to three days a week on June 1, before the five-day-a-week availability resumes on Aug. 5.
The court fee for non-members has been reduced to $2.
In addition, a new outdoor court at Etling Park (100 Ellen Drive, Goose Creek) is available daily from 8 a.m. to 8 p.m. To reserve a net for the outdoor court, call the Community Center at (843) 569-4242. There is no fee to use the outdoor court. Players with their own net are welcome to use the court. View the Pickleball Equipment Rental Agreement.
Pickleball is a fun combination of tennis, ping-pong and badminton.
« Back to News