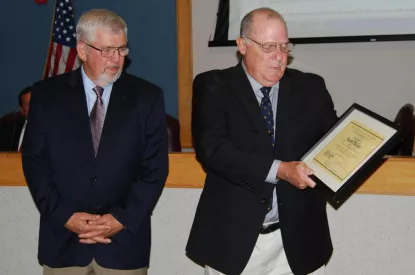 Phillips honored, re-elected Mayor Pro Tem

May 12 2016
Goose Creek Mayor Pro Tem Mark Phillips was recognized at the May 10, 2016, Goose Creek City Council meeting for his participation in a unique program offered by the South Carolina Economic Development Institute.
The Institute's Economic Development Program is a hands-on learning experience that provides innovative approaches to economic development in local communities. The program includes four highly-interactive sessions.
The meeting also saw City Council re-elect Phillips to the Mayor Pro Tem position in a unanimous vote. Goose Creek Mayor Michael Heitzler presented a certificate from the Economic Development Institute to Mayor Pro Tem Phillips.
« Back to News