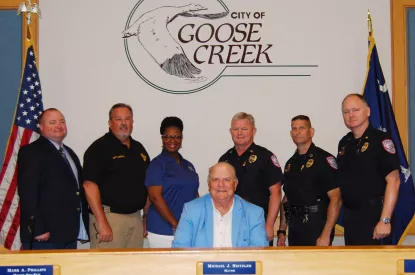 Peace Officers' Memorial Day proclaimed

May 1 2017
Mayor Heitzler has proclaimed May 15, 2017 as Peace Officers' Memorial Day in Goose Creek.
The Mayor signed the proclamation on the morning of May 1 at City Hall. The proclamation thanked law enforcement officers "who, through their courageous deeds, have made the ultimate sacrifice in service to their communities."
Joining Mayor Heitzler at the signing ceremony were members of the Goose Creek Police Department Command Staff, as well as special guest Tonia Mallett Smith. Mrs. Mallett Smith is the wife of the late Clarendon County Sheriff's Deputy Holmes N. Smith Jr., who died in a duty-related car crash on Nov. 5, 2014.
Mrs. Mallett Smith represented the Concerns of Police Survivors (COPS) organization. The organization is dedicated to remembering the sacrifices of fallen officers, as well as honoring their surviving families.
"Thank you so much for everything you do," Mrs. Mallett Smith said to GCPD Chief Harvey Becker and the GCPD Command Staff.
In addition to Tonia Mallett Smith, joining Mayor Heitzler were GCPD Captain Shawn Laffey, Captain Dave Soderberg, Chief of Police Harvey Becker, Captain Dave Aarons, and Major John Grainger.
To learn more about C.O.P.S., visit www.nationalcops.org.
« Back to News