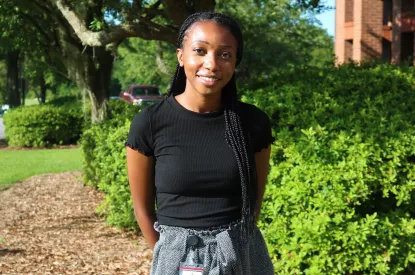 A passion for public service

Jul 15 2021
When she applied to be the City of Goose Creek's Economic Development Intern, Diamond Curry wasn't sure what to expect. Six months later, she has become an important part of the day-to-day work flow at City Hall. In addition to helping Economic Development Director Matt Brady, Diamond assists other departments with a host of activities and projects. She has gained some great experience – and is looking forward to an exciting new full-time job at the City of North Charleston.
Before her six-month internship came to an end on July 15, Diamond talked about her experience and shared advice for anyone interested in making a difference. 
Q: What steps could someone interested in government or public administration take to get some experience that you have?  
A: Look for opportunities. Never disqualify or underestimate yourself because of self-doubt. You never know if you could be exactly what someone is looking for.  
Q: How did you know this was the right career path for you? 
A: I didn't, at least not until I was a year into college. I majored in law and public policy as an undergrad and liked the public policy part of it more than the law portion, so I studied public management when I began to work towards my graduate degree. My goal is to be as impactful and useful to the public as I can possibly be, and I think public policy is how I can accomplish that.  I definitely want to go somewhere where I know I can make a difference and do the best work I can.   
Q: Does your daily schedule stay the same or is it more flexible? 
A: My actual work hours remain the same but there's always something different going on in the office. Sometimes I'll go somewhere with a department head for a project, some days I go to meetings, and other days it's just me doing what I need to do.  
Q: What traits would make a person successful in public administration? 
A: Being ethical is a big one. Being cooperative with all the people you work with and serve. You are going to be working with and around a lot of different people with a lot of different beliefs and it's important to remain respectful and get things done. If you want to work in any sort of public administration, it is essential that you care about the people you serve and have compassion towards them.  
Q: What is the most valuable thing that you personally will take from this internship? 
A: Before I started interning at Goose Creek, I had all these goals about going to Washington D.C. and working in the government and changing the world. When I got here, though, I realized that so much more can happen on a small scale. Even the smallest decisions can have a major impact on a person or community. Having compassion and an understanding towards your community is so important when making decisions.  
Q: Add together all of your wisdom and give your most important piece of advice to those who are interested in this field. 
A: If you are passionate about your beliefs or really want to make a change: go for it. All your life experiences and your personal perspective give you the passion and motivation to go out there and do something. If you have the passion, you're never underqualified. Do not let anyone tell you otherwise. I think Michelle Obama said in her book, "Am I good enough? Yes I am."  
« Back to News