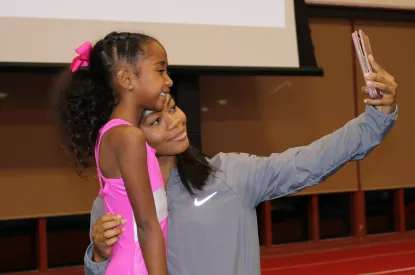 Olympian's visit a magical moment for Goose Creek Gymnastics

Nov 22 2018
It was a magical night in Goose Creek on Wednesday, Nov. 7, as U.S. Olympic great Gabby Douglas visited City of Goose Creek Gymnastics.
The internationally acclaimed Olympic gold medalist spent hours at the new Activity Center to celebrate the success of "Reach for Your Star with Gabby Douglas," which raised $53,000 for The Breast Cancer Research Foundation. She also gave lots of pointers, shared advice, and watched City of Goose Creek Gymnastics Coach Stacey Croston's gymnasts perform.
Visit www.gcgymnasticswithgabby.org for more details on the unique fundraising campaign that brought Gabby to Goose Creek. For information on Coach Croston's gymnastics program, call (843) 569-4242.
« Back to News