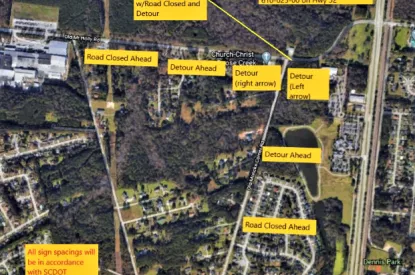 Old Mt. Holly Road turn lane construction will close lanes on April 17 and 18

Apr 16 2020
Update: Lane closures are scheduled from 9 a.m. to 3 p.m. on Friday, April 17 and Saturday, April 18, at Old Mt. Holly Rd and Hwy. 52 as construction continues.
***
Update: Because of the weather, the lane closures scheduled for Monday, April 13 will take place on Tuesday, April 14.
***
We've received this update from Berkeley County regarding the ongoing turn lane project on Old Mt. Holly Road and Hwy. 52:
Daytime lane closures are scheduled to take place on Saturday, April 11, and Monday, April 13, along Old Mt. Holly Road and Hwy. 52. The work is expected to occur from 9 a.m. to 3 p.m. each day. Both the eastbound side of Old Mt. Holly and the southbound outside lane of Hwy. 52 will be closed during that time. During the Hwy. 52 lane closure, signals at the intersection will be put into flash mode as work crews mill and pave Old Mt. Holly Road.
A detour and appropriate signage will be in place for motorists to follow. Eastbound traffic on Old Mt. Holly Road will be detoured to Hwy. 52 via Old Moncks Corner Road to U.S. 176. The westbound lane on Old Mt. Holly Road will remain open to traffic traveling from Hwy. 52.
« Back to News