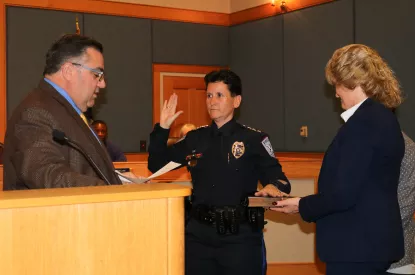 New Police Chief LJ Roscoe sworn in at City Hall

Jan 18 2019
History was made in Goose Creek on Friday night, as the City's first new Police Chief in three decades was sworn into office.
LJ Roscoe was sworn in by Goose Creek Mayor Greg Habib at a ceremony on Jan. 18 at City Hall. She takes over the GCPD from longtime Chief Harvey Becker, who retired on Friday.
As an overflow crowd looked on, Chief Roscoe said she is excited to be in Goose Creek.
"I look forward to being a positive presence, not only as your Police Chief, but also as a member of our community," she said. "I ask all of you to support me, and continue to support the men and women of the Goose Creek Police Department."
"I'm excited," Mayor Habib told the standing-room-only audience. "I gave our City Administrator the charge to identify the best person we could find to lead our Police Department. We had applicants from all over the United States. We are thankful that she is here.
"Congratulations, LJ, and welcome to Goose Creek."
A South Carolina native, Chief Roscoe comes to Goose Creek from the DeKalb County Sheriff's Office in Georgia. 
Chief Roscoe began her career in law enforcement in 1991 when she joined the DeKalb County Sheriff's office as a detention officer.  She was promoted to deputy sheriff in 1994, and continued to receive promotions and assignments of increasing responsibility in various agency divisions. In 2014, she was promoted to the rank of Major.
Chief Roscoe earned both a Bachelor's degree and Master's degree in law enforcement management from Madison University in Mississippi; a Bachelor of Business Administration from Columbia Southern University in Alabama; and, a Master's degree in Organizational Leadership, from Waldorf University in Iowa. She is a graduate of the Northwestern University's School of Police Staff and Command. Chief Roscoe is a graduate of the Leadership DeKalb Class of 2016 and a member of the Justice Day Committee. 
« Back to News