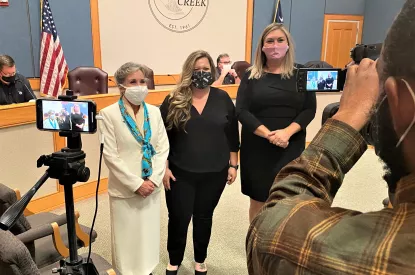 New councilmembers sworn in to office

Dec 8 2020
Three Goose Creek City Councilmembers were sworn into office on Dec. 7, 2020 at City Hall, including two newcomers to Council.
Sworn in for new, four-year terms were Hannah Cox and Melissa Enos, who were newly elected in 2020, and incumbent Gayla McSwain, who successfully reclaimed a seat on Council in the 2020 elections. Community leaders joined family and friends of the candidates for the swearing-in ceremony, which was participated in by U.S. Congresswoman-Elect Nancy Mace.
Goose Creek City Council meets on the second Tuesday of every month, at 6 p.m. at City Hall. 
« Back to News