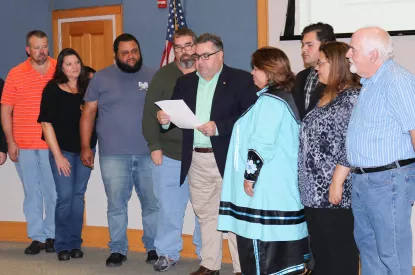 Native American Heritage Month proclaimed in Goose Creek

Nov 21 2018
Mayor Habib and City Council have proclaimed November as Native American Heritage Month in the City of Goose Creek.
The proclamation was officially made at City Council's Tuesday, Nov. 13 meeting.
Members of the Wassamassaw Tribe of Varnertown Indians were present as Mayor Habib read the official proclamation, which celebrates the vital role that Native Americans play in our city, state and country.
"Native American Indians of the Varnertown community, also historically known as Summerville Indians, have contributed significantly towards a greater society," the proclamation states. "Many Native North Americans, Central Americans, and Alaskan Natives; and South Americans of Indian descent have come to be citizens and residents of Goose Creek, Berkeley County, and the State of South Carolina, from many different parts of the western hemisphere."
The proclamation also recognizes Nov. 18 as Native American Awareness Day in South Carolina.
« Back to News