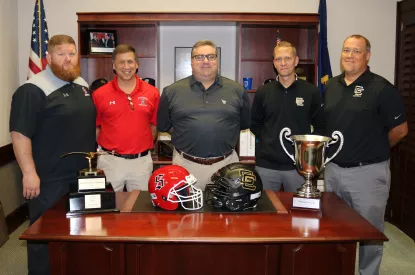 Mayor's Cup, Golden Goose Trophies announced for Stratford-Goose Creek rivalry

Oct 28 2019
Mayor Habib has decided to spice up the athletic rivalry between Stratford and Goose Creek High Schools! Today at City Hall, with the help of both schools, the Mayor introduced two new trophies that the Gators and Knights will play for each year.
The Mayor's Cup will be presented to the school that has the most wins in the rivalry over all sports. It will be awarded in the Spring, at the conclusion of the school year.
The Golden Goose Trophy will be awarded annually to the winner of the "Clash in the Creek" football game between the Knights and the Gators. This year's game takes place Friday night at GCHS.
The Mayor sent out a special thanks to JW Aluminum, who is presenting both the Mayor's Cup and the Golden Goose Trophy.
Pictured above, Mayor Habib (center) is joined by (l-r) SHS Head Football Coach Dennie McDaniel, SHS Athletics Director John Chalus, GCHS Athletics Director Chris Buchholz and GCHS Head Football Coach Jason Winstead.
« Back to News