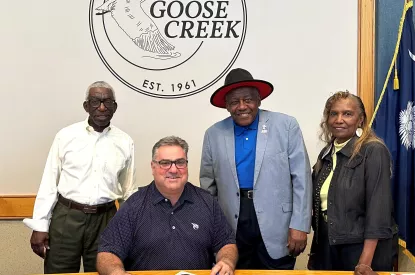 Mayor proclaims Second Chance Month in Goose Creek

Apr 6 2023
Mayor Habib has proclaimed April as Second Chance Month in Goose Creek. Joining the Mayor at City Hall on April 5 were Prison Fellowship representatives Sam Butler, John Matthews of the Goose Creek NAACP, and Ranese Harrell.
Prison Fellowship promotes the importance of helping citizens with criminal records turn their lives around and reach their potential. "I appreciate your work," the Mayor said. "Everybody has value … sometimes someone just needs a chance to share that value."
Read more about the Prison Fellowship organization.
« Back to News