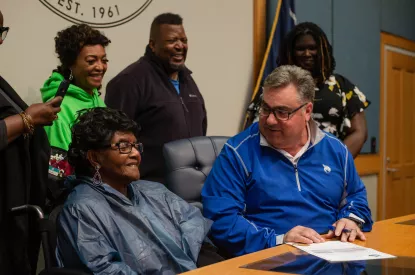 Mayor proclaims Jennie Mae Jefferson Day in Goose Creek

Dec 7 2022
A lifelong educator, historian and treasured community member was honored at City Hall this week, as Mrs. Jennie Mae Jefferson was recognized for a lifetime of service in Goose Creek.
Mayor Habib issued a Proclamation in honor of Mrs. Jefferson, who impacted the lives of hundreds of Berkeley County students during a 46-year teaching career that spanned the integration of public schools. Her impact continued through a love of history, and she has played a vital role as the historian of Joshua United Methodist Church. The Church's history includes the merging of Casey Methodist Church, and Bethel and Promise Land Methodist Churches. Born in 1928, Mrs. Jefferson is the last surviving child of Ben and Daisy Bryan, and she has served for decades as the Bryan Family historian. She was raised in the Casey Community of Mt. Holly that is in present-day Goose Creek.
In honor of Mrs. Jefferson, Dec. 3 was officially proclaimed as Jennie Mae Jefferson Day in the City of Goose Creek. Thank you for all you do for our community, Mrs. Jefferson!
« Back to News