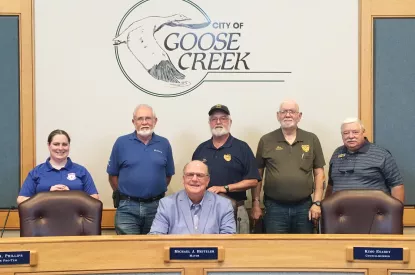 Mayor proclaims Amateur Radio Week

Jun 19 2017
The City of Goose Creek has again tipped its hat to amateur radio operators in the Lowcountry.
Mayor Michael Heitzler signed a proclamation last week at City Hall proclaiming June 19 to 25 as Amateur Radio Week in the city.
The proclamation calls amateur radio a valuable tool for the city, especially for the Goose Creek Police and Fire Departments during emergencies such as a hurricane. "Amateur radio has once again proved its undisputed relevance in the modern world," the proclamation states.
According to the proclamation, in addition to its emergency operations, "Amateur radio has continued to provide a bridge between peoples, societies and countries by creating friendships and the sharing of ideas."
The annual Amateur Radio Relay League Field Day takes place June 24 to 25. Visit www.ARRL.org for more information from The National Association for Amateur Radio.
Joining Mayor Heitzler were local Amateur Radio operators (l-r) Linda Selleck, Steve Lamendola, Tom Lufkin, Ken Curtis and David Merritt.
« Back to News