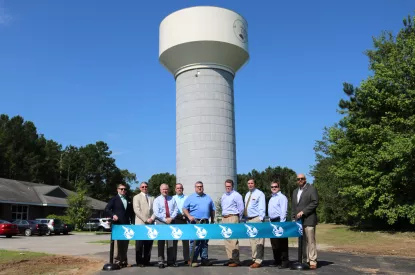 Mayor officially opens new water tank

Jun 14 2018
It was another exciting day in Goose Creek on June 14, 2018, as the City's new, 1.5 million gallon water tank on Thurgood Road was officially opened.
The tank will help the City's water system continue to work efficiently – delivering high quality drinking water, aiding in fire protection, and bolstering economic development.  
At a ribbon-cutting, Mayor Habib was joined by (l-r) City Administrator Jake Broom, Public Works Director Chuck Denson, Joe Greenburg (Design South Professionals Inc), James Absher (SC Rural Infrastructure Authority), Charles Gorman (SC DHEC), Ben Wofford (Design South), Brian Asbill (SC DHEC) and Assistant City Administrator Daniel Moore.
« Back to News