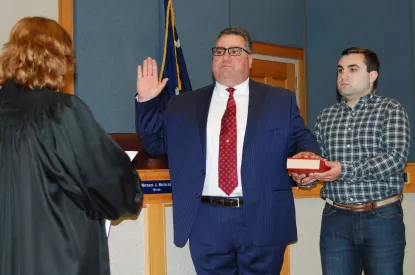 Mayor Habib, Councilmembers take oath of office

May 4 2018
A new era began in Goose Creek on May 3, as Mayor Greg Habib took the oath of office in a swearing-in ceremony at City Hall.
Mayor Habib was sworn in by his wife, Ellen, with his oldest son, Phillip, by his side, as dozens of friends and supporters filled the City Council chambers.
Also taking the oath of office were newly-elected City Councilmembers Corey McClary, Jerry Tekac, and incumbent Debra Green-Fletcher.
The Mayor and City Councilmembers were elected to four-year terms. A special election to fill Mayor Habib's vacant City Council seat will be held on July 31.
« Back to News