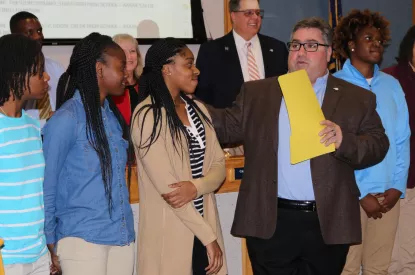 Mayor, Council congratulate Lady Gators

Mar 13 2019
Mayor Habib and Goose Creek City Council honored the Goose Creek High School Lady Gator basketball team at City Council's March 12 meeting at City Hall.
Mayor Habib presented the Lady Gators with a City Proclamation congratulating the team for its 5A State Championship for the 2018-2019 season. The Lady Gators, coached by Tim Baldwin, defeated Spring Valley in dramatic fashion on March 4 in Columbia to capture their second title in the past three seasons. 
« Back to News