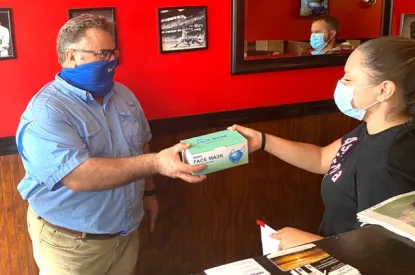 Mayor to community: Just Wear It!

Jul 1 2020
The City of Goose Creek ordered 10,000 additional face masks this week, following City Council's unanimous resolution encouraging everyone to wear a mask in order to slow the spread of COVID-19. If your business or restaurant needs masks, email your request to [email protected]. Masks for individuals are also available at City Hall.
Thanks to all of our partners in the community including Lowe's, which donated 5,000 masks to the public this week.
On Monday, June 30, Mayor Habib helped Goose Creek Police Officers distribute masks and the City's "Just Wear It" fliers to area businesses. Above is a message from the Mayor, who urges everyone to do their part and #JustWearIt.
« Back to News